Scripture readings:
Num. 11:24-30; Psalm 104:24-35; Acts 2:1-21; John 20:19-23
PENTECOST: EXTRAORDINARY LIFE IN ORDINARY TIME (Acts 2:1-21)
By Michelle Fleming
Introduction
Today is Pentecost, which marks the transition from the Easter season to what the liturgical calendar calls "ordinary time." During the Easter season, we reflect on God's redemption through Jesus' life, death and resurrection. Following that, our focus switches to living out the mystery of the life of Christ. Doing so is impossible without what Pentecost commemorates—the outpouring of the Holy Spirit upon humanity. Pentecost is the day on which we move from spectators in the gospel story to active participants. It is the day the church, the body of Christ, was born.
Pentecost is a day of fulfillment. The Jews celebrated it as Shavuoth (the Festival of Weeks) when they would wave the first fruits of the harvest in thanks to God. In Acts 2, we learn that the promise of Pentecost is fulfilled in the sending of the Holy Spirit, an event hearkening back to Jesus' promise to his disciples recorded in Acts 1:
You will receive power when the Holy Spirit comes on you; and you will be my witnesses in Jerusalem, and in all Judea and Samaria, and to the ends of the earth. (Acts 1:8)
Then in his sermon given to the assembled crowd on Pentecost, Peter notes that this outpouring of the Spirit fulfills Joel's prophecy:
In the last days, God says, I will pour out my Spirit on all people. Your sons and daughters will prophesy, your young men will see visions, your old men will dream dreams. (Acts 2:17)
On Pentecost we celebrate God's faithfulness and the fullness of life experienced in relationship with him, in Christ, by the Holy Spirit. The account of Pentecost in Acts describes an exciting eruption of God's wind and fire washing over the lives of those present. The disciples were blown from the Upper Room out into the streets, boldly declaring the good news of Jesus crucified and risen and the Spirit outpoured.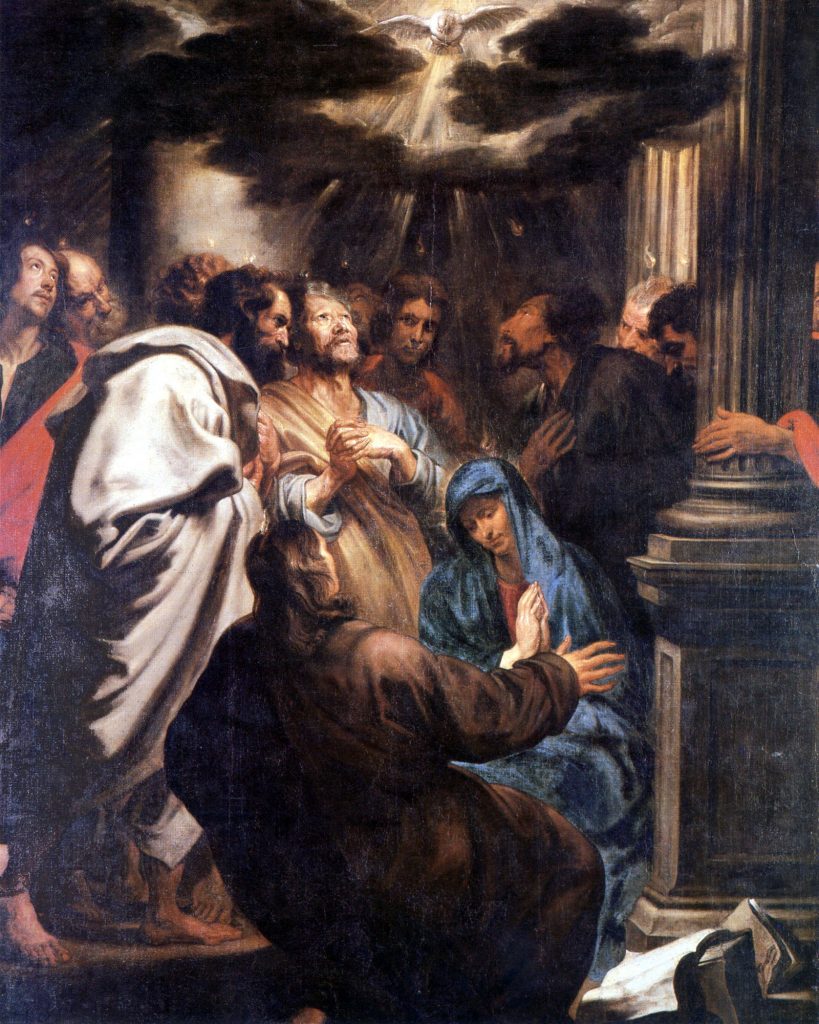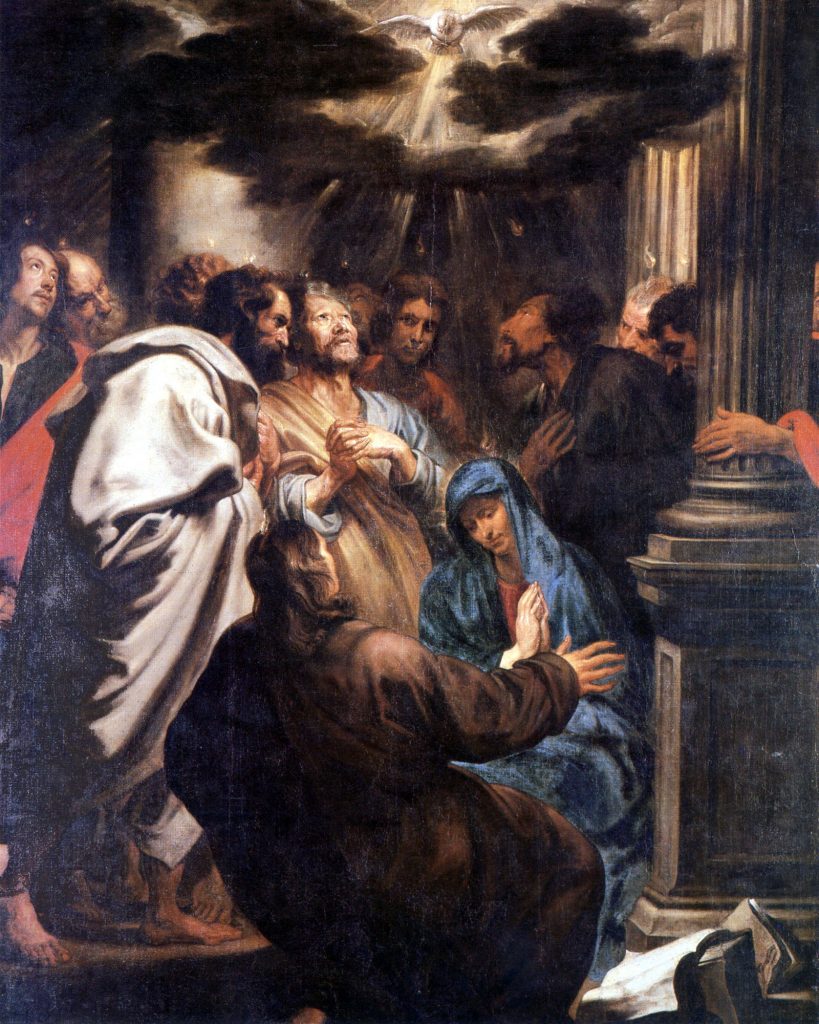 Today, the same vibrant Holy Spirit is our counselor and comforter, encouraging us and propelling us forward in the abundant life God has for us. John 3:8 compares the Spirit-filled life as one blown and controlled by a wind that one "cannot tell where it comes from or where it is going." A life led and empowered by the Spirit requires a life of trust in the faithfulness of the Father to fulfill his promises and meet our needs. We set our sails, wait for the wind, and allow the Spirit to lead and unfold in God's perfect timing.
Pentecost tells us that the power of the resurrection is not just for us—it is in us! We don't have to be fearful and begin relying on ourselves. In the storms of life we don't have to start powering and steering our own boat. Instead we trust the Spirit to both empower and guide us. We remember how the Spirit empowered and led those first disciples into the streets of Jerusalem and from there to the whole world, bearing the message of Christ.
The Holy Spirit's outpouring on men and women, slave and free, to spread the gospel in all languages imparted the power of the cross in a personal, collective and universal way that both began and then sent the church on mission. The finished work on the cross assures us of eternal life, but it also impacts the way we live our temporal lives. As we transition into Ordinary Time, we are empowered by the Holy Spirit to make the gospel story our story. We are blessed to in turn be a blessing.
Our lives are shaped and transformed by the presence and power of the risen Christ, who sends the Spirit to empower and direct us. Let us receive motivation from this day to re-set our sails, to listen for and respond to the direction the Holy Spirit is pointing us toward for the season ahead. I invite you to take some time later today and over the next few days to pray and/or journal through three questions we'll now take a look at. This will help you to experience a personal Pentecost—to discern how God is calling you to live out the gospel during this next season in your life.
The three questions follow the pattern of season now concluding: Good Friday, Easter Sunday and Pentecost.
1. Good Friday: name my deaths
Moving from Easter season, what must I leave behind in order to live out what God has for me in this next season?
In Philippians 3, Paul reassures us that the righteousness we receive through our faith is worth whatever we surrender at the cross.
I consider everything a loss because of the surpassing worth of knowing Christ Jesus my Lord, for whose sake I have lost all things. I consider them garbage, that I may gain Christ and be found in him, not having a righteousness of my own that comes from the law, but that which is through faith in Christ—the righteousness that comes from God on the basis of faith. I want to know Christ—yes, to know the power of his resurrection and participation in his sufferings, becoming like him in his death, and so, somehow, attaining to the resurrection from the dead. (Philippians 3:8-11)
Saying yes to Jesus is the best decision we can ever make. But often we do not count the cost—we do not recognize that saying yes to Christ will mean saying no to some things that we are still holding in our hearts and with our hands. To experience the power of Jesus' resurrection, we must also participate in his death. Dead to self, alive to Christ! Note Jesus' words:
Whoever wants to be my disciple must deny themselves and take up their cross daily and follow me. (Luke 9:23)
Yes, we want the power of his resurrection, but perhaps we don't think about what parts of our current lives must die so that Christ can mold us, through the Spirit, into new creations. So ask God—"Lord, what are you asking me to surrender in order to make room for the new life that you are cultivating in me?
Note to preacher: perhaps you can give a personal example here---the need to give up a bad habit like comparison or envy, attempts to control self and others, making better use of time, etc. Although many of us have given up physical things such as jobs in order to do what we thought Christ was asking, it is better to focus here on mental and relational changes, which are probably more immediately applicable to people in the audience.We need to take time to grieve what we are dying to and adjust to our new reality.
2. Easter Sunday: claim my births
Resurrection is not just an event—it is the answer to the problem of endings. The miracle of Easter is that God did not merely resuscitate Jesus into the same life. Jesus first experienced death, then received a new life. We are invited to share that new life—in Jesus' resurrected, glorified humanity. Note Paul's words in Romans 6:
We were therefore buried with him through baptism into death in order that, just as Christ was raised from the dead through the glory of the Father, we too may live a new life. For if we have been united with him in a death like his, we will certainly also be united with him in a resurrection like his. For we know that our old self was crucified with him so that the body ruled by sin might be done away with, that we should no longer be slaves to sin—because anyone who has died has been set free from sin. (Romans 6:4-7)
We often want God to resuscitate what we have lost, rather than replace our human dreams with God-sized dreams. We want the solution to our longings to be a resuscitation, but what Jesus, through the Spirit, provides for us is a resurrection. Our hope is not merely to begin again (renewing old dreams), but to start anew—a new creation—the revealing of the kingdom of God in our lives.
So ask yourself, "What new life do I see rising up in my life?" Perhaps it's a new habit, an opportunity to start a new relationship (or an entirely new chapter in an old one), new hopes, new dreams. Claim them!
3. Pentecost: listen for my direction
Ask the Holy Spirit to come close and give you what you need to step out into your next season—into the extraordinary life that is yours to live in ordinary time. Our life in Christ and by the Spirit is resurrection life. Jesus' resurrection life is ours because the Holy Spirit unites us to Christ. Note what Paul declares in Romans 8:
This resurrection life you received from God is not a timid, grave-tending life. It's adventurously expectant, greeting God with a childlike "What's next, Papa?" God's Spirit touches our spirits and confirms who we really are. We know who he is, and we know who we are: Father and children. And we know we are going to get what's coming to us—an unbelievable inheritance! We go through exactly what Christ goes through. If we go through the hard times with him, then we're certainly going to go through the good times with him! (Romans 8:15-17, The Message)
As you reflect on these words and the promises made so clear by the season we're now leaving, remember that on Pentecost the disciples of Jesus were sent out into the world. Where is the Spirit sending you? Where is he sending us? Is there a person or community you as an individual and we as a community are being called to connect with or invest in during this next season? Listen to what the Spirit is saying, then obey.
Amen.