Scripture readings: Gen. 18:1-15 and Ps. 116:1-2, 12-19 
or Ex. 19:2-8 and Ps. 100:1-5; Rom. 5:1-8; Matt. 9:35-10:8

Sermon by Martin Manuel from Matt. 9:35-10:8
JESUS SEES A HARVEST FIELD—DO WE?
Introduction
Though Jesus tried to contain his popularity, his reputation spread like wildfire throughout Galilee and on into Judea. Wherever he went, crowds followed, many hoping to receive healing and help from this miracle-working rabbi. In chapter 9, Matthew cites case after case of Jesus acting on requests for help from people around him. Amazed crowds (Matt. 9:8, 33) gathered wherever he went. Desperate people flocked to him.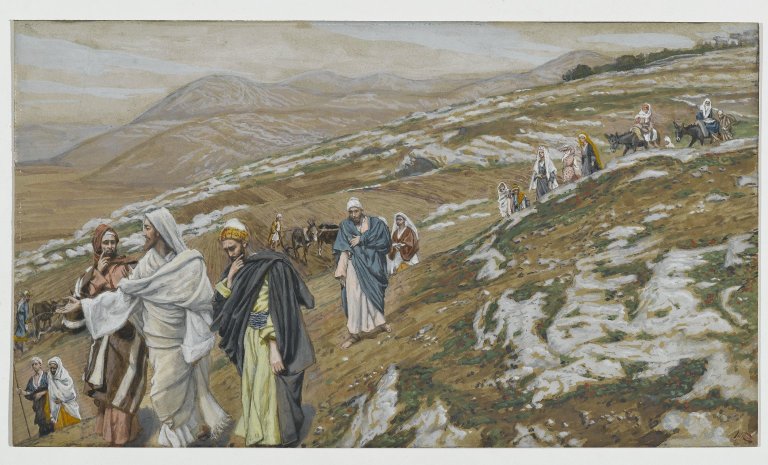 This is the backdrop of today's Gospel lesson. We find Jesus recognizing a great, ripe, spiritual harvest field and sending his apostles out into it to reap. But what does this passage have to do with us today? In this sermon we'll see that Jesus gives us the same invitation and challenge. May we have ears to hear.
1. Jesus cares and acts
Truly caring about the state of humanity, Jesus acts. Note Matthew 9:
Jesus went through all the towns and villages, teaching in their synagogues, proclaiming the good news of the kingdom and healing every disease and sickness. When he saw the crowds, he had compassion on them, because they were harassed and helpless, like sheep without a shepherd. (Matthew 9:35-36)
In this country beaten down by the Roman occupiers, Jesus' message about the kingdom of God was relevant and attention-grabbing. But just as compelling was the compassion he showed in response to the people's need, offering help and healing. Jesus viewed these "harassed and helpless" people as "sheep without a shepherd." Other leaders might have seen this situation as an opportunity to grab a following, but not Jesus. Showing his compassionate heart for suffering humanity, he reached out to address their needs, both physical and spiritual.
2. Jesus assesses and prays
Then in Matthew 9:37, Jesus uses a metaphor to describe to his followers his assessment of the situation: "The harvest is plentiful but the workers are few." It was as if Jesus was standing before a field, perhaps a large wheat field, ready for harvest, and having the frustrating feeling that although he desires that the harvest be brought in, the task of doing so is too great for one person.
Have you ever felt that way? Suppose your house desperately needs attention: repairs, cleaning, painting—months of work for one person, but you need it done soon. You'll have to hire carpenters, electricians, plumbers, a cleaning service crew and a team of painters.
Seeing the enormity of the fields ripe for harvest, rather than heading out to hire a crew, Jesus turned to prayer, saying this to his disciples: "Ask the Lord of the harvest, therefore, to send out workers into his harvest field" (Matt. 9:38). This is how Jesus thought—this is the prayerful, dependent posture by which he lived. Jesus' first priority always was to pray, and here he shares that priority with his disciples. Whereas the natural tendency is to see prayer as the last resort, Jesus wanted his followers to understand that prayer must precede any efforts of our own in the harvest field. Why? Because the field belongs to the Lord, who not only creates the fruit, but is able to supply the laborers needed to reap the harvest.
3. Jesus assembles and commissions
Jesus' next step was to assemble a team of harvesters using resources God had made available. These resources were available because Jesus had followed God's earlier instructions to call and equip a team for ministry. The time to send that team into the mission field had arrived:
Jesus called his twelve disciples to him and gave them authority to drive out impure spirits and to heal every disease and sickness (Matt. 10:1).
Jesus gave his team of followers authority. This was the extension to them of the authority Jesus possessed as Messiah. Note Isaiah's prophecy:
The Spirit of the Sovereign LORD is on me, because the LORD has anointed me to proclaim good news to the poor. He has sent me to bind up the brokenhearted, to proclaim freedom for the captives and release from darkness for the prisoners. (Isa. 61:1)
This authority was not automatically conferred on the disciples when they began following Jesus. But now the time had come for them to be sent out bearing some of Jesus' authority. Note that Matthew calls them apostles (Matt. 10:2), meaning "ones sent" (Matt. 10:5). Jesus was giving them a temporary commission to go to work in the harvest field.
As we know, no job of any significance can be done without instruction and training. Parents know that even the simplest tasks, such as making up a bed or cleaning a room, will be incomplete if attempted by untrained children. Children need to be trained; merely issuing orders will not get the job done. Wise parents often start by doing the task first while the child watches. Next, the parent participates with the child as the child tries to do the task, then they step back and watch the child do the task, giving both encouraging and gently corrective feedback. When the child understands, the parent can delegate the task to the child.
Jesus had been training his disciples for months before this commissioning. They had watched him work and had begun to participate with him. Now it was time for further training that involved a specific assignment, and so Jesus sent them out with these instructions:
Do not go among the Gentiles or enter any town of the Samaritans. Go rather to the lost sheep of Israel. As you go, proclaim this message: "The kingdom of heaven has come near." Heal the sick, raise the dead, cleanse those who have leprosy, drive out demons. Freely you have received; freely give. (Matt. 10:5-8)
Note that their primary task was to proclaim the gospel in a particular way that included words concerning the kingdom of heaven. These words were apparently specific to this mission—they are not included in the many examples of proclaiming the gospel elsewhere in the New Testament. The miraculous works of healing and exorcism were also part of this mission. Later examples of proclaiming the gospel—especially in the book of Acts—do not always include miracles.
4. The lesson for us
Though this particular assignment (commission) was temporary, its lesson is timeless, and certainly applicable to us today. The Son of God, sent by the Father and anointed with the Holy Spirit, saw humanity as lost sheep needing a shepherd. Jesus was moved by his compassion to send others, prepared by him to participate in the harvest. It's important for us to realize that Jesus is alive—our ascended Lord has the same perspective on humanity and on the mission of the church today. With the same compassion, he sees humanity's needs today. And all along, Jesus has been calling and equipping a team—it's called the church—a team he sends into the harvest field with specific instructions. They are to go bearing Jesus' perspective, including his heart of compassion.
Here's what we can do to be faithful to who Jesus is and to the commission he has given to us as his fellow harvest workers:
Start with prayer. Jesus set a wonderful example for us in this. At all times, but particularly when the task seems overwhelming, we should pray. The challenges we face personally and as a congregation are bigger than any one of us and even all of us together apart from the Lord. We need his help!
Remember that Jesus said that the harvest has a Lord. Do we look at our tasks that way? Do we see what appears to be mountains before us and realize that there is a Lord of those mountains? When Jesus explained that the Lord of the harvest would send laborers, he implied that they would be given a heart like his—a heart of compassion for lost people. We do not need to try to work up that heart, but we can and should pray for it.
Get equipped. Jesus started with prayer, but he did not stop there. Our next step is to act according to our current abilities and training. As individuals and congregations this is a challenge. Jesus invested much time to train his disciples. In the same way, church leaders must train today's followers of Jesus. Each of us has a role according to the gifts we have been given. Whatever the gift and role, whether participating in community service, giving personal assistance, telling people about Jesus, or being part of an outreach team, we must be receptive to the training opportunities available.
Get going. Finally, having been equipped and instructed, we go into the harvest field (where prayer and equipping continues). As in farming crops, each harvest field is unique, but some things apply to all.
Here is an example [the preacher may want to substitute an example more relevant to their congregation]:
A small North Carolina GCI congregation has been getting out into the "harvest field" that is their neighborhood. They received training and instructions from their pastoral team, but all they really needed to do was engage with the neighbors around their place of meeting. Through an open house, an outreach event to support families of school children returning after summer break, a fall festival, and other activities, the members started to get involved with the neighbors and that involvement continued to grow. Where needs arose, they helped. As a result, the congregation became known in the community as people who care and want to help in any way they can. As a result, a number of neighbors investigated the congregation more deeply and some began attending and some became members. The church members called their endeavors to be involved in the community "outreach." The New Testament calls it "good works." Jesus calls it going out into the harvest field to both sow and reap.
How a congregation obeys Jesus' call to enter into his work in the harvest field will depend on the particular needs of the neighborhood and circumstances of the both the neighbors and the church members. In all cases, expressing the love of the Triune God for humanity as Jesus did is the key. Even where the gospel is not immediately embraced, a positive example of God's love can move people to respond later. Even if people in the neighborhood do not attend our church but choose to attend elsewhere, we need not be disappointed. The important thing is that people respond to the good news of Jesus Christ and begin to entrust their lives to him. Any way or time that a person accepts Jesus Christ and enters a life of trusting the Father through Christ and by the Spirit, we can and should rejoice! We are participating with Jesus in what he is doing to express his heart of compassion for harassed and helpless lost sheep.
Conclusion
As Jesus looks at the world, he sees fields ripe for harvest. He wants his followers to see the fields around them, and participate with him in reaping the harvest near at hand. Are we moved with his compassion to pray for workers? Are we willing to be trained, instructed and sent?
Perhaps these questions should be in the forefront of our minds as we exit the powerful seasons of Easter and Pentecost and embark upon the period called in the Lectionary, "ordinary time"? As we've seen today, though it involves living day to day, there is nothing ordinary about it.
---
If you'd like to give your audience a look at a harvest, here are two videos: