This article is from GCI-USA Regional Pastor Randy Bloom.
A current big push in exercise has to do with strengthening the body's "core." Doing so is viewed as essential to overall strength and health. As I'll explain in this article, when it comes to strength and health in a church, it's vital that pastoral leaders grow a strong leader CORE.
Leader development is a vital part of our calling as pastors to "equip the saints for the work of ministry" (Eph. 4:12 ESV). CAD's consultant, Tom Nebel, has been helping us grow our team's leader CORE so that we, in turn, can help other leaders do likewise. In his leader development training, Tom often refers to the leader CORE diagram shown below. It has three key aspects: IQ, EQ and PQ. Let's look at each one.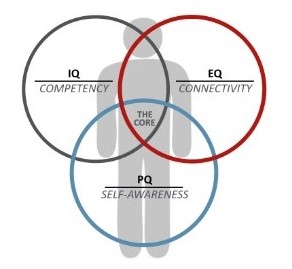 IQ
The first aspect of the leader CORE is the leader's IQ. This involves the leader's storehouse of knowledge and information along with the skills they have acquired (note that IQ, in this case, should not be confused with how "smart" the person is). With education, training, experience and credentialing, leaders develop this IQ in ways that others will take note of.
EQ
To be an effective pastoral leader within our current cultural context, much more than IQ is needed. Leaders also need EQ—the capacity for connectivity, which means an ability to be fully present with people in various social contexts (one-on-one, and in groups). EQ is about connecting relationally with the people we have contact with.
PQ
The third aspect of the leader CORE is PQ—the leader's unique personality. This is the way they are "wired." Knowing our PQ helps us answer several important questions: What is it like to be on the other side of me? Do I communicate well? Can others communicate with me? PQ helps us understand the impact our personality has on our interactions with other people.
Growing your CORE
Together, IQ (knowledge/information and skills), EQ (connectivity) and PQ (wiring) form the leader's CORE. I think most of us are well-acquainted with IQ—in GCI we place value acquiring information and skills. We love to attend conferences, workshops and classes! But information is not enough when it comes to having a strong leader CORE. Because most anyone can gather information via the internet, pastoral leaders are no longer looked to as exclusive repositories of the knowledge people seek. Also, information, of itself, informs, but does not transform. Effective, healthy, transformational leaders not only know a lot and are skilled in many areas (IQ), they understand themselves (PQ), and are good at interacting with others (EQ)—particularly with those they have the greatest opportunity to influence (other leaders and members in the congregations they lead).
Perhaps some of you reading this are thinking, But I'm not a pastor! Or, I'm not a leader! But no matter how you view yourself, you do influence people around you. None of us lives in a vacuum—we all are connected, in Christ, with others around us. We impact them, whether we realize it or not, or intend to or not.
Growing a strong leader CORE—developing our intellectual (IQ), emotional (EQ) and personal (PQ) capacities—enables us to have a far more positive influence with our families, friends and the communities where we live. And isn't that what we've been created and called to do—to witness to all humanity (in word and deed) concerning God's grace and love; and to participate in unique, marvelous ways in the transformational work the Holy Spirit is doing in the lives of people around us?
Those of us on the CAD team are here to help you grow in Christ as the pastoral leaders he has called you to be. In future issues of Equipper we will share resources that can help us all grow a strong CORE as Christ-like leaders.