Dear pastors and ministry leaders:
One of the most frustrating things in any job is not having clear job expectations. I experienced that frustration during 15 years serving as a lead pastor—at times it felt like a 24/7 job that was not only a bit unclear, but never finished. Do I hear an "amen" echoing from the Atlantic to the Pacific?
In Church Administration and Development (CAD), we work to provide pastors with clear ministry expectations, then equip them to meet them. With those goals in mind, this issue of Equipper addresses the renewal of the pastoral priorities that are essential in our work as under-shepherds in the ministry of the great Shepherd, Jesus Christ.
LEAD-P pastoral priorities
What are a pastor's main responsibilities and thus what should be their principal priorities? That's a question we seek to help pastors answer as they begin their ministry. One of the ways we do so is to include them in our New Pastors Orientation Conference held once every two years. At the most recent conference, CAD team member Ted Johnston shared five priorities for pastors. Because these apply to primary pastoral leaders (and also to ministry leaders), I want to share them with you here. To help us remember them, I'll present the priorities using the acronym LEAD–P.
L: leadership
Pastors are called and appointed to lead—a role that's largely about participating with Jesus in what he is doing to "equip his people for works of service" (Eph. 4:12) and then deploy them to join Jesus in the ministry he is doing, by the Spirit and through his church, to fulfill the Father's mission to the world. Being effective in this leadership calling requires not only IQ, but EQ and PQ as well. What are these? Read Randy Bloom's article in this issue, The priority of leadership: growing a strong leader CORE.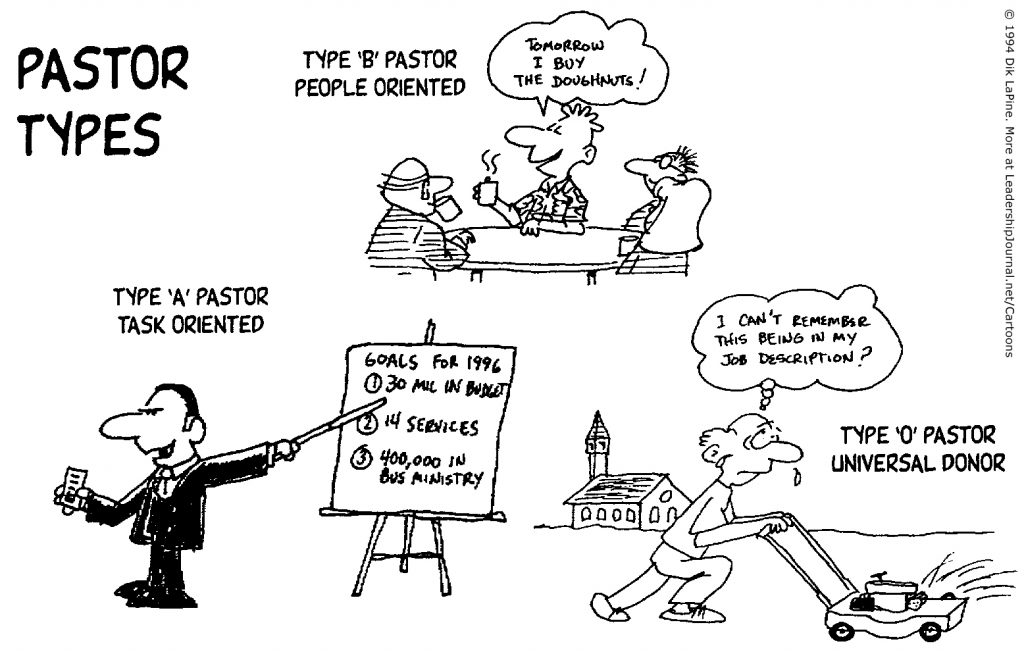 I greatly admire the humility our pastors exhibit (men and women with a foot-washing attitude!). However, it's important that they stay focused on their calling to lead. That means not taking on the role of deacons who were appointed by the apostles in Acts 6:3-4 to care for the needy so the leaders could focus on prayer and the ministry of the word (preaching). To accomplish these tasks well, pastors must be men and women of prayer and careful students of Scripture. Concerning both, I recommend Clarifying Our Theological Vision, the series by Gary Deddo (click here for part 2). I pray that this series enhances your theological renewal, bringing, in turn, renewed clarity and passion to all aspects of your pastoral ministry, including your preaching (the fifth pastoral priority, addressed below).
E: evangelism-outreach
The second priority for lead pastors is be sure the gospel is being proclaimed in word and deed—both within and outside the congregation. That doesn't mean the pastor is the "lone evangelist," or that he or she is the only one involved in community outreach. Instead, the pastor's role is to model relational evangelism and then organize the congregation to ensure that relational evangelism (through meaningful outreach) is a key part of the congregation's regular rhythms.
The best scriptural description of relational evangelism is found in 1 Peter 3:15, where the bold, impetuous apostle Peter gave this instruction:
In your hearts revere Christ as Lord. Always be prepared to give an answer to everyone who asks you to give the reason for the hope that you have. But do this with gentleness and respect.
Wow, what stellar advice! Let's break it down:
Attend to your daily walk with Jesus as you go about making more disciples.
Be prepared to give an answer as to who Christ is, and how Christ impacts you personally.
Give this answer to those who ask. This implies ongoing relationships with people who will want to know about your faith. Where does the love, joy, peace, etc. come from that is displayed in your life?
Present your testimony concerning the difference Christ makes in your life in respectful, caring ways. Evangelism is about winning people, not about winning arguments.
For more about evangelism and outreach, click here, here and here.
A: administration
Contrary to what some think, administration is not a curse word! Granted, it's not as "sexy" as the other priorities, but it's equally important. Making schedules, conducting meetings, filling out reports, providing job descriptions for ministry staff (volunteer or paid), communicating through newsletters and other means, budgeting and basically being well-organized—these all may feel like the business side of ministry, but without prayerful thinking, careful planning and smooth execution, other aspects of ministry unravel. Several parts of administration can be delegated to others on the leadership team, but they must not be left undone. The lead pastor has ultimate responsibility.
For a helpful Ministry article on pastors as administrators, click here.
D: discipleship
The spiritual formation of members (old and new) must always be a top priority for pastors. The lead pastor is responsible to see that environments are provided to facilitate the growth of the flock in the grace and knowledge of Jesus. Though these growth-enhancing environments include the weekly worship service, more is needed if people are going to be well discipled. So ask yourself, what happens with the church between our Sunday worship services? Are other discipling venues available?—things like small groups, discipleship classes and Bible study tools. Are the members, their families and friends being given opportunities to have their lives knit together—fellowship meals, mission trips, etc. Remember, discipleship is a life-on-life endeavor.
For more about the priority of discipleship, click here and here.
P: preaching
Notice that the priority here is preaching rather than teaching. Though teaching has its place (delivered largely through Bible studies, discipleship classes and the like), preaching is different—it involves the inspired proclamation of the good news week in and week out in the sermon.
When the Bible speaks about preaching it's referring to heralding the gospel. The message preached is primarily for conversion and conviction, whereas the message taught is primarily for exhorting and explaining, with an eye toward building Christians in the faith (discipleship). Can we all agree that we need to hear the gospel preached passionately every week? Let's never bore people with the good news.
Note Paul's exhortation concerning the priority of preaching:
Preach the word; be prepared in season and out of season; correct, rebuke and encourage—with great patience and careful instruction. (2 Timothy 4:2)
To equip our pastors (and other preachers) to fulfill this priority, we provide resources (including sermons) to help preachers track with the Revised Common Lectionary (RCL). For details, see Ted Johnston's article in this issue, The priority of preaching: using the RCL.
Conclusion
As an international mosiac of churches knit together by the grace of God, GCI continues in a season of renewal. That renewal includes gaining greater clarity and thus alignment concerning our theology, doctrine and practice. All three must be fully Christ-centered and thus coordinated. One area where we seek that alignment has to do with our pastoral leaders being aligned with the priorities outlined in this letter and unpacked in this issue of Equipper.
We believe that the outgrowth of a lead pastor's alignment with LEAD-P priorities will be a healthy church, no matter its shape or size. But a word of caution is in order here as we set our sights on living out these priorities: though the Bible tells us that we're in a race, our race is a marathon, not a sprint. Pastors must be prepared for the long-haul.
Pastor, all of us on the CAD team pray for you and your congregation. Our continued focus and commitment is to pass along to you, and to the other leaders in your congregation, useful tools and other forms of support that make your work more joy-filled and productive. We are proud of you, and feel immensely privileged to run the race with you.
Easter-season blessings to you all,
Dr. Greg Williams
GCI Vice President and CAD Director
PS: I'm looking forward to seeing all of you in August at our Denominational Conference in Orlando, FL. If you're not registered yet, please do so soon. For conference information and registration, click here.