Sermon for April 30, 2017 (third Sunday of Easter)
Scripture readings:
Acts 2:14, 36-41; Psalm 116:1-4, 12-19; 1 Pet. 1:17-23; Luke 24:13-35
COMING TO FAITH IN JESUS (Luke 24:13-35)
By Linda Rex
Today, the third Sunday of the Easter season, let's look at encountering Jesus. In our reading in Luke's Gospel, two disciples of Jesus, walking the road to Emmaus, don't know who was walking with them. It can be like that for us—walking the road of life not aware that our ever-present companion is none other than the risen and ascended Lord Jesus Christ.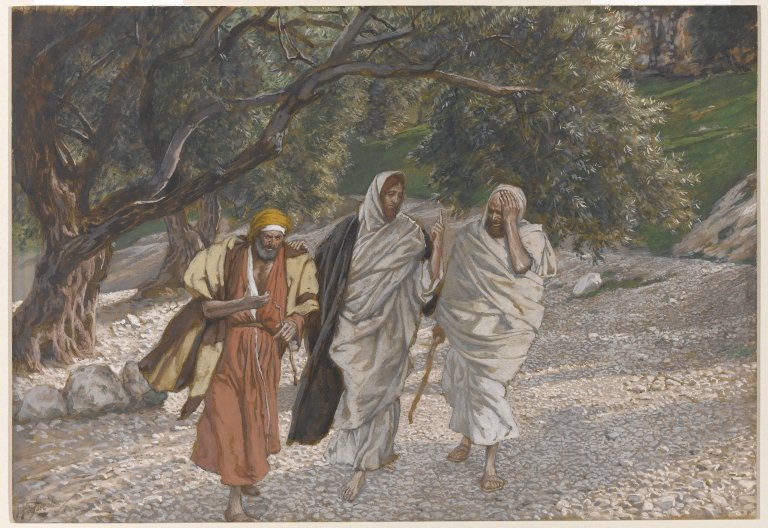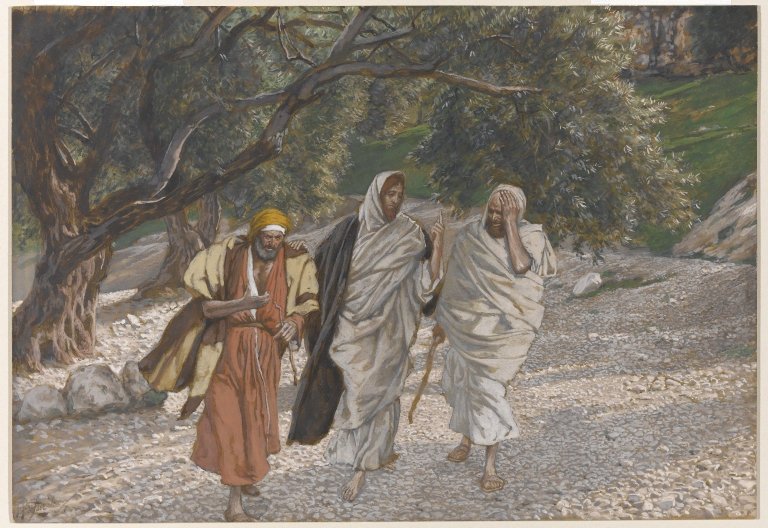 The two disciples on the road to Emmaus saw Jesus, but they didn't recognize who he was. Either Jesus was disguising himself, or they were blinded by their own doubt and sorrow. In any case, they did not recognize this man for who he really was. Addressing Jesus, the men asked, "Don't you realize what has happened?" They begin to describe Jesus as a prophet.
In our world today, we often meet non-believers who believe that Jesus was a prophet—a teacher. Perhaps they even respect him as a great teacher. They can believe that about Jesus without having faith in him—the faith that is a gift from God—the gift that involves the Spirit opening our eyes to see Jesus for who he really is and then trust him to be that for us.
This can be a struggle for us—in some ways we can believe Jesus is our Lord and Savior, yet not be aware of him being present in our daily lives in a powerful, personal way. We can even think of him as being absent or uninvolved and thus unimportant. We can be like these two disciples on the road to Emmaus: slow to believe.
In Romans 10:17, Paul says that "faith comes from hearing the message, and the message is heard through the word about Christ." So Jesus began sharing the message with these two down-hearted men concerning the identity of the Messiah. He did so by explaining what the prophecies about the Messiah, recorded in the Hebrew Scriptures actually mean: "Was it not necessary for the Christ to suffer these things and to enter into his glory?," he asks. Beginning with Moses and the other prophets, he talks about himself as he is revealed in Scripture to be.
Note, however, that these two men, despite what Jesus shared, at that point did not believe. Though they heard these words of life, they didn't get it. But then, Jesus did something unusual—the two men invited him to eat with them, and at that supper Jesus breaks the bread—something, by custom, the host is supposed to do. Jesus takes on the role of the host at this meal, and breaks the bread and blesses it.
It is in this act of breaking bread that the eyes of the two men are opened to see Jesus for who he really is. Through Jesus' act, they are given eyes of faith, of recognition, of belief. I think this is why communion is important for us—at the Table we can encounter Jesus and are thus invited to receive and believe, knowing it is Jesus who is the host at the Table.
Let's look now at what Mark adds in Mark 16:9-11 (a passage apparently added to the original text, yet conveying the understanding of the early church):
9 When Jesus rose early on the first day of the week, he appeared first to Mary Magdalene, out of whom he had driven seven demons. 10 She went and told those who had been with him and who were mourning and weeping. 11 When they heard that Jesus was alive and that she had seen him, they did not believe it. 12 Afterward Jesus appeared in a different form to two of them while they were walking in the country. 13 These returned and reported it to the rest; but they did not believe them either.
The two followers of Jesus reported to the others what they came to realize when seeing Jesus break the bread. Apparently it was at the Table that they came to belief. "Weren't our hearts burning within us?" they asked (Luke 24:32). And how true that is—our hearts are warmed when we come to faith in Christ.
Note that it was Mary Magdalene who gave Jesus' followers the words of life—the gospel: "Christ is risen", "he's our Savior and Lord." Then the two disciples who ate with Jesus in Emmaus gave a similar testimony. But even after those eye-witness testimonies to the reality of Jesus being alive, notice what it says in Mark 16:14:
14 Later Jesus appeared to the Eleven as they were eating; he rebuked them for their lack of faith and their stubborn refusal to believe those who had seen him after he had risen.
They would not believe because they could not see Jesus with the eyes of faith. There comes a time when, through the ministry of the Holy Spirit, Jesus reveals himself to us. He opens our eyes to see and places in our hearts his faith, which enables us to believe, if we will. He doesn't force belief, but he enables and invites it.
In his epistle known as 1 John, the apostle tells his personal story of coming to belief. You will recall that John was the one who, when told that Jesus had risen, ran with Peter to the tomb. And then going inside and looking around, seeing that the tomb was empty, John believed. Interesting, isn't it? Others seeing the empty tomb did not believe. Some people need one type of evidence, and some another.
Note what John says in 1 John 5:1: "Everyone who believes that Jesus is the Christ is born of God and everyone who loves the father loves his child as well." Then John says this (1 John 5:4-5):
4 Everyone born of God overcomes the world. This is the victory that has overcome the world, even our faith. 5 Who is it that overcomes the world? Only the one who believes that Jesus is the Son of God.
Faith is assurance given us by the Holy Spirit that Jesus is the Son of God—the risen Lord, the Messiah. John continues in 1 John 5:10:
10 Whoever believes in the Son of God accepts this testimony. Whoever does not believe God has made him out to be a liar, because they have not believed the testimony God has given about his Son.
By denying the truth concerning Jesus, we make God out to be a liar—we proclaim untrue what God says about Jesus Christ, his Son through the testimony of many witnesses. Concerning that testimony, and the results of belief, John, in 1 John 5:11-13, says this:
11 And this is the testimony: God has given us eternal life, and this life is in his Son. 12 Whoever has the Son has life; whoever does not have the Son of God does not have life. 13 I write these things to you who believe in the name of the Son of God so that you may know that you have eternal life.
As we believe, we receive eternal life and we know it. This assurance—this belief, this faith—is God's gift to us by the Holy Spirit.
Through the indwelling Spirit we know we are God's child, that we have been born of God and thus have eternal life as a present possession. This is our identity—our reality—who we really are. I think the apostles and the other disciples had to go through a painful transition, from shock and disappointment, to initial awareness, to deeply settled belief—knowing beyond doubt that Jesus was alive, and thus knowing who they were and what their life's work would be.
It was not easy for them, at first, to recognize the risen Lord. Perhaps his appearance in his now-glorified human body was different. It certainly was different to see him appear and then disappear. Much about Jesus was, for them, entirely new, and now they had to struggle to see themselves in light of that revelation—to see themselves, in Christ, in this new way.
United by the Holy Spirit to the risen Lord Jesus Christ, we are not God—we have not existed eternally as God has, and we are not fused with God. However, we truly are God's children, and that means we have new life, a life that is eternal and is a reflection of the glorified human person, Jesus Christ. We have been born again to a new life in Christ. Because that is the truth, there is something going on in our lives that is much deeper than we sometimes relalize as we walk through the ordinary days of our lives. Sometimes we fail to see, through eyes of faith, what is actually going on—we fail to see Jesus there with us; we fail to acknowledge his presence.
Dear ones, Jesus is alive!! We need the eyes of faith to believe that—and God gives us those eyes, that faith, through the onoging ministry of the Holy Spirit who dwells in us, uniting us to Christ. We'll not get to that place of assurance if we begin with the proposition that God is not real unless proven real. Start there and that's where you'll likely end up—looking to yourself, and without faith.
But if we begin by admitting our own inadequacy, looking beyond ourselves to Christ, to the testimony of eye-witnesses to the real presence of the risen Lord, then we will end up where they did, albeit with some doubt and struggle—the place of faith.
So to receive faith, we begin by looking beyond ourselves to Christ, and when we do, the gift of faith is given to us. "He who seeks," says the Scripture, "will find." "To him who knocks, it will be openened." That's Christ's promise to us. Let us look to him. Let's pray:
I'm grateful, God, that you are very generous in revealing yourself to us. It's not because somehow we deserve it, or have earned it, or have been wise enough or smart enough or diligent enough or faithful enough to achieve it. We don't get it right. But you love us enough that you show yourself to us anyway. And I thank you that through your Spirit we are given eyes of faith to see you, Lord Jesus Christ, as our Savior, our Lord, as the Son of God and Son of Man you are—the One who took our place, who lived the life we need to live, who died the death we deserve to die, who rose from the grave and lives as ascended Lord, and in whom we have eternal life. We thank you, God, that we are born of you and are your children. Thank you for sharing your life with us. We give you praise, glory and thanksgiving. In Jesus' name. Amen.