Each week, as we gather in our GCI congregations around the world,  most of our pastors are preaching from the Revised Common Lectionary. Using these same passages, and often the same sermon outlines published in Equipper is incredibly unifying. Reading and responding to the same truth about our Triune God is a wonderful way to create connection within our global fellowship.
The scriptures chosen week to week align with each season of the Christian calendar. As the graphic below illustrates, during each season we celebrate and remember the good news of Jesus. In Advent we celebrate, Jesus is coming; in Christmas, we rejoice, Jesus is born; during Epiphany we commemorate, Jesus is ministering; during Lent, we remember, Jesus is saving; in Easter we rejoice, Jesus is risen, and during Ordinary Time we honor, Jesus is building the church. You will notice that the calendar revolves around the life and ministry of Jesus, always keeping him the center of the center. In reliving these messages of good news each year we are continually transformed.
The GCI Worship Calendar is not compulsory however it is an invitation to more intentionally exalt Jesus as the central focus of our worship. The movement toward a defined calendar brings clarity as to how we worship in GCI and keeps us Christ-centered. It is a season to season reminder of who we are and whose we are.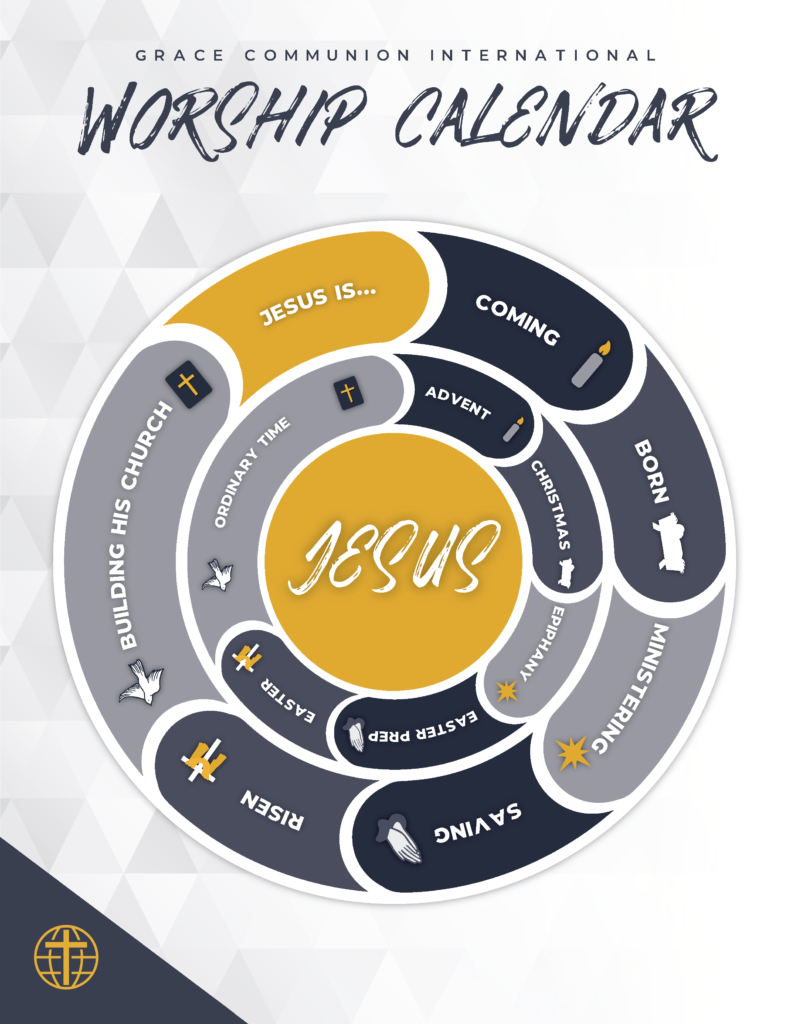 December begins a new worship calendar year. You can download the 2019-2020 GCI Worship Calendar for your reference. If you like to plan ahead, here is a list of the pericopes for this calendar year.