Scripture readings: Gen. 1:1-5; Ps. 29:1-11; 
Acts 19:1-7; Mark 1:4-11

Sermon by Sheila Graham 
from Acts 19:1-7 and Mark 1:4-5, 7-11
This Sunday (January 7) is the day after the Epiphany, which always occurs on January 6, the 12th day of Christmas. The first Sunday following the Epiphany (epiphany means revealing) typically focuses on one of two great events in the life of Jesus that revealed his identity: the Magi's visit and Jesus' baptism. The Gospel reading this Sunday is from Mark's account of the baptism.
Life in the Spirit
What does it mean to live in the Spirit? Some people say it's about doing good works all the time. But that's not it—many non-Christians do good works, and though God loves them and takes note of their good works, they don't have the Spirit of God. On the other hand, there are Christians who, by definition, have the Spirit, yet live by cultural rules I might not agree with or have habits I don't like.
I'm not sure I have the discernment to tell if someone has the gift of the Holy Spirit, at least not right away. To help us sort out this issue, let's go to the account of a time when the apostle Paul knew right away that some people who called themselves disciples of Jesus didn't have the Holy Spirit.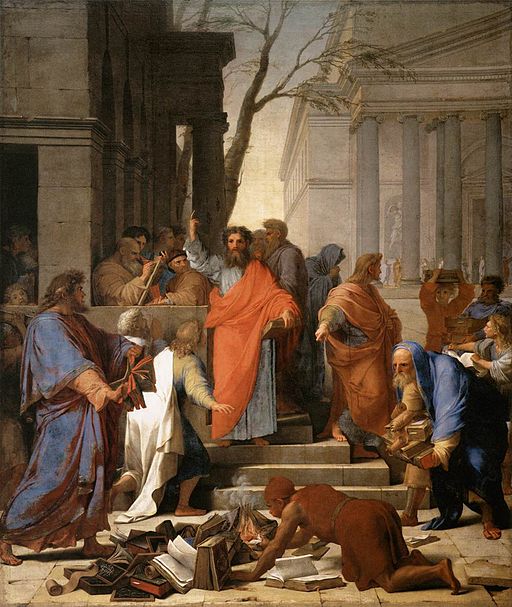 Paul's third missionary journey included a three-year stay in Ephesus (c. A.D. 53-57). When he returned to Ephesus, he found 12 people who said they were believers in Jesus. But, Paul questioned their statement. The Bible doesn't tell us why—perhaps it was something they said or didn't say, or maybe even something they did.
While Apollos was in Corinth, Paul passed through the interior regions and came to Ephesus, where he found some disciples. He said to them, "Did you receive the Holy Spirit when you became believers?" They replied, "No, we have not even heard that there is a Holy Spirit." Then he said, "Into what then were you baptized?" They answered, "Into John's baptism." Paul said, "John baptized with the baptism of repentance, telling the people to believe in the one who was to come after him, that is, in Jesus." On hearing this, they were baptized in the name of the Lord Jesus. When Paul had laid his hands on them, the Holy Spirit came upon them, and they spoke in tongues and prophesied—altogether there were about twelve of them.  (Acts 19:1-7, NRSV)
Though they called themselves believers, Paul discerned something was still missing. Paul knew true faith in Jesus depends on having received the Holy Spirit. So Paul wanted to know more about their baptism. They said they had learned about Jesus through John the Baptist's teachings and baptism. Had they received the Holy Spirit when they were baptized? No, they said they had not even heard about the Holy Spirit.
John the Baptist's baptism of repentance is mentioned in Mark's account of Jesus' baptism. But Jesus' baptism experience was significantly different from John's baptism of repentance. Here is what Mark wrote:
John the baptizer appeared in the wilderness, proclaiming a baptism of repentance for the forgiveness of sins. And people from the whole Judean countryside and all the people of Jerusalem were going out to him, and were baptized by him in the river Jordan, confessing their sins…. He proclaimed, "The one who is more powerful than I is coming after me; I am not worthy to stoop down and untie the thong of his sandals. I have baptized you with water; but he will baptize you with the Holy Spirit. (Mark 1:4-5, NRSV; Mark 1:7-8, NRSV)
Though Paul realized these disciples in Ephesus knew about Jesus, they were more the followers of John the Baptist than of Jesus. Notice that Paul didn't just accept their baptism and explain to them about the Holy Spirit. No, he went further—he laid hands on them and baptized them again, this time in the name of Jesus. Only then did they receive the gift of the Holy Spirit and begin their new life in Christ.
Paul probably didn't consider this a rebaptism. This was the baptism that mattered, the baptism of Jesus, which included the affirmation of his Father and the Holy Spirit. When Jesus was baptized, the Father called him his Son and the Holy Spirit came to him like a dove. Let's read that in Mark:
In those days Jesus came from Nazareth of Galilee and was baptized by John in the Jordan. And just as he was coming up out of the water, he saw the heavens torn apart and the Spirit descending like a dove on him. And a voice came from heaven, "You are my Son, the Beloved; with you I am well pleased." (Mark 1:9-11, NRSV)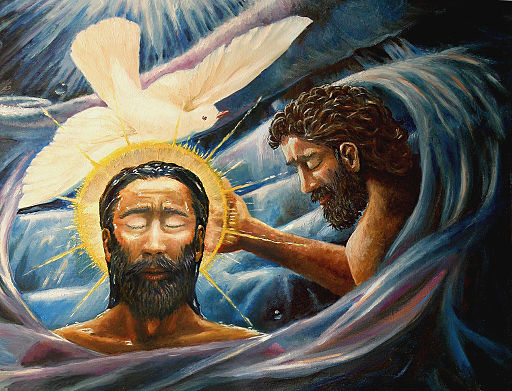 It is the Spirit-filled baptism of Jesus that would make the real difference in the lives of these people. The same is true for us today. When we are baptized, we are sharing in the baptism of Jesus, which includes his receiving of the Holy Spirit on our behalf. It is our sharing in Jesus' baptism in the Spirit that opens to us the close intimate relationship that we have with God and with people. Note what Anglican bishop and Christian professor N.T. Wright ways about this in his book, Simply Christian:
God offers us, by the Spirit, a fresh kind of relationship with himself—and, at the same time, a fresh kind of relationship with our neighbors and with the whole of creation. The renewal of human lives by the Spirit provides the energy through which damaged and fractured human relationships can be mended and healed.
What does it mean to "live in the Spirit"? We talk about it a lot. When we are in Christ, we live in the Spirit, not in the flesh. But our flesh is very real to us, isn't it? We can give our arms a hard pinch and realize quickly we have flesh to deal with.
A Christian teacher described it this way: As she stood to speak, she would say, I'm now in the flesh. Afterward she would step over a bit and say, I'm now in the Spirit. Then she would give an example, perhaps when her husband did or said something she didn't like. What should she do?
In the Spirit: it's no big deal. If you correct him, he's not going to like it, and it could affect your whole relationship today. Let it go. Forgive and forget.
Then she would step over in the flesh: But I'm upset and I want him to know I'm not happy. I don't want him to get away with this.
In the Spirit: What kind of attitude is that? He's your husband and you know you love him.
In the flesh: How will he know what I'm angry about if I don't tell him? Besides, I'm kind of enjoying being mad!
Well, maybe this isn't quite the way living in the Spirit while being in the flesh really works, but it sometimes comes close.
Let's give some more examples. What about when someone cuts you off in traffic or is rude to you at work or gossips about you behind your back? Without the Spirit of God, we wouldn't have these arguments with ourselves.
We often hear about road rage and its tragic consequences. People will shoot each other over parking spaces. It's crazy.
We are called to live in the life of the Spirit, through Jesus our Lord. It may sound strange to us, but Jesus is fully God and yet also the perfect human. Sometimes we justify our bad actions by saying we're "only human," but that's a fallacy. When we sin, that isn't what true humanity is all about. When we live in the Spirit, through Jesus, we become more like Jesus and thus more truly human, not less. Jesus was the perfect human.
To sum it up, we cannot come to life in the Spirit on our own, and we can't enjoy a close relationship with God on our own. Those 12 people in Ephesus had repented and were baptized, but Paul realized something important was missing—the gift of the Holy Spirit.
Karl Barth put it this way:
When it happens that man obtains that freedom of becoming a hearer, a responsible, grateful, hopeful person, this is not because of an act of the human spirit, but solely because of the act of the Holy Spirit. So this is, in other words, a gift of God. It has to do with a new birth, with the Holy Spirit. ("Dogmatic in Outline," chapter 21, last paragraph)
Yes, it's a new birth—born again in the Spirit. And, as mentioned before, our new birth is just the beginning. We must be careful not to think that once we are baptized, God the Father, Jesus and the Holy Spirit have done their part in our lives. Our sins are forgiven, we are saved, that's it. Got to be careful now, we're on our own.
No, God continues to work in our lives through the Holy Spirit. He won't leave us to struggle on our own. This is what sanctification means.
We have been given the gift of freedom in Christ. As someone once said, Jesus didn't just wipe the slate clean, he broke it up into pieces and threw it away. Living by the Spirit through Jesus our Lord means the law is written on our hearts. Our stony hearts have been softened. God isn't making lists on whether we're naughty or nice; he's working with us every day to bring us into closer relationship with him.
We don't have to worry about measuring up anymore. Through the gift of the Holy Spirit we have real freedom—freedom from sin and guilt and shame, freedom to get our minds off ourselves and to love God and to be concerned about others. That's what living in the Spirit is all about, and that is very good news!