Scripture readings: Isa. 64:1-9; Ps. 80:1-7, 17-19
1 Cor. 1:3-9; Mark 13:24-37 

Sermon by Michelle Fleming from 1 Cor. 1:3-9
Expectant Waiting
Introduction
Grace to you and peace from God our Father and the Lord Jesus Christ. I give thanks to my God always for you because of the grace of God that was given you in Christ Jesus, that in every way you were enriched in him in all speech and all knowledge—even as the testimony about Christ was confirmed among you—so that you are not lacking in any gift, as you wait for the revealing of our Lord Jesus Christ, who will sustain you to the end, guiltless in the day of our Lord Jesus Christ. God is faithful, by whom you were called into the fellowship of his Son, Jesus Christ our Lord. (1 Cor. 1:3-9, ESV)
Today begins the season of Advent, which begins a new year of celebration in the Christian worship calendar. Advent is a time of both celebration and anticipation in that it celebrates Jesus' three "comings" (the word "advent" means "coming"). These comings are traditionally celebrated during the Advent season in reverse order:
Advent ends with a celebration of Jesus' first coming through the Incarnation, which fulfilled the Father's eternal covenant of drawing humanity to himself. That then leads into the celebration of Jesus' birth at Christmas.
In the middle part of Advent, we celebrate Jesus' present coming, through the Spirit, to dwell with us and in us.
Then at the beginning of Advent the focus is on what is often referred to as Jesus' second coming—the time, yet future, when our Lord will return to earth bodily to establish the fullness of God's kingdom on earth and thus to set everything right in the world. This is the coming of Jesus that we focus on today, the first Sunday of Advent.
The point I want to make today is that Advent includes expectant waiting—waiting for Christ's return; training our hearts and minds to long for that ultimate hope. Karl Barth put it this way:
Unfulfilled and fulfilled promise are related to each other, as are dawn and sunrise. Both are promise and in fact the same promise. If anywhere at all, then it is precisely in the light of the coming of Christ that faith has become Advent faith, the expectation of future revelation. But faith knows for whom and for what it is waiting. It is fulfilled faith because it lays hold on the fulfilled promise.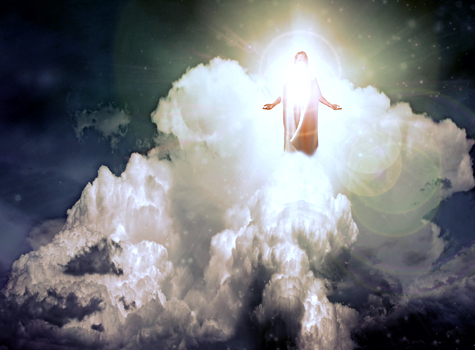 The Father's covenant promise to send a Messiah for the people of Israel is the same one the church now clings to—the future coming of Jesus Christ to establish the fullness of the kingdom of God on earth. And so Advent, which celebrates the reality that Jesus has come and now is coming, also looks forward with anticipation, grounded in the hope that Jesus will come again.
The advantage of waiting
The rush toward Christmas celebrations can cause us to overlook the great spiritual advantage of waiting. In our results-driven culture, waiting is not given much value. In fact, waiting is often seen as a negative. We tend to believe that the product is of far greater importance than the process. But in God's economy, waiting is of great value, for it helps us understand where our hope lies—it helps to show us what we are orienting our lives around.
Today's reading in 1 Corinthians reminds us that Advent is not just about celebrating Christ's first coming—it's also about waiting for his return:
…as you wait for the revealing of our Lord Jesus Christ, who will sustain you to the end guiltless in the day of our Lord Jesus Christ. (1 Cor. 1:7)
Note that this is not worry-filled, nervous waiting, trying to earn our way into the kingdom. Instead, it's a hope-filled, stand-on-the-tip-of-your-toes, excited waiting. Paul encourages the Corinthians by pointing out that they already have received the gifts they need to sustain them until Christ returns. This grace-filled passage is a reminder that, through Jesus, we already are included in the life and love and thus already are experiencing his kingdom rule and reign.
While we wait for his return and the fullness of his kingdom, we experience the naked vulnerability of trust. No matter how disciplined, organized and prayerful we are, we never outgrow God's invitation to wait. The learning curve through this waiting is life-long.
Advent is the season to keep learning and practicing the discipline of waiting that challenges us all. It's an opportunity to see the good fruit that waiting with patience and in hope produces in our lives.
The perils and pitfalls of waiting poorly
In and through Jesus, we have every spiritual blessing needed in order to wait well for his return—for our one true hope, which is the fullness of his kingdom here on earth as it is in heaven. Sadly, in the verses that follow our reading, Paul scolds the Corinthians for not waiting well—for comparing and thus quarreling over their own little kingdoms (1 Cor. 1:10–16), rather than orienting their hope and identity in Jesus and his kingdom. Their quarreling was a denial of the reality of the rich life that is ours in Christ as we await his ultimate return.
We are prone to the same pitfalls that befell the Corinthians. We tend to focus on the world "that is" rather than the one that is "to come." We build routines and schedules, relying on the systems of this world, rather than leaning on the person of Jesus. Due to a focus on the world, we are shaken when we see events occuring that are so disconnected from what we were created for—events like natural disasters, divisions, senseless violence, the list goes on and on, giving us reasons to lose hope. Advent reminds us that our ultimate hope is not in this world.
Active, hope-filled waiting
Awaiting Jesus' return, we have hope despite the chaos and confusion of the fallen world around us. Jesus does not leave us alone—by the Spirit he brings comfort and counsel, helping us wait with hope. Knowing for whom and for what we wait, our waiting during Advent, and always, is not passive. Instead it's active and expectant. We are reminded that we are not looking for a king or kingdom of our own—our King has come, and invites us to help build his kingdom as we await his return in glory.
When Jesus first came to earth, he lived as fully human—in the beauty and brokenness of relationships, the temptations and struggles we all have. When he died in our place, he did not do so theoretically. He knew you by name, in each day-to-day moment—not your dream or ideal life but the actual life you are living.
What if we lived out of the truth that Jesus has redeemed both the big and small moments of our lives, intentionally joining his continued rescue and redemption of the whole world? In our active waiting this Advent season, let's live out of the righteous and just life that Jesus came and died to give to us. We each have a specific calling, and so our participation in Jesus' love and life may look a bit different for each of us, but here are some ways that, like Jesus, empowered by the Spirit, we can enter the chaos and confusion of the world around us and bring peace:
Bringing reconciliation to our relationships by being the first to apologize to our spouses, co-workers, children, or friends when there is a place of brokenness in the relationship.
Asking about then deeply listening to someone with a different experience or worldview than ours—sharing our own story only if asked to do so.
Resting in the abundance of God's economy, blessing someone who has limited time, health, or financial resources, meeting a need they have during this Advent-Christmas season.
I encourage you this week to prayerfully consider how you are being called to actively and expectantly wait during this Advent season.
Conclusion
As we end our time today, let's stand together as a symbol of our active waiting, and read, pray, and declare some words of hope together.
RESPONSIVE READING
Note: it will be helpful to print this reading in the bulletin 
or project it on a screen. Source: www.crivoice.org.
[Leader]  O Lord, stir our hearts as we prepare for the coming of your one and only Son.

[People]  We wait. We wait with expectant hope. In a world that often seems hopeless, we wait in anticipation of the hope only you can bring.

[Leader]  From ages past, no one has heard, no ear has perceived, no eye has seen any God besides you who works for those who wait for him.

[People]  We wait in expectant hope. Come, long expected Jesus.

[Leader]  The people who walked in darkness have seen a great light; on those who lived in a land as dark as death a light has dawned.

[All]  O God, rejoicing, we remember the promise of your Son. May Christ our Savior bring light into the darkness of our world, and to us, as we wait for his coming. We ask this through the hope we have in Christ our Lord. Amen.