Scripture readings: Ex.16:2-15 and Ps. 105:1-6, 37-45 
(or Jonah 3:10-4:11 and Ps. 145:1-8) Phil. 1:21-30; Matt. 20:1-16

Sermon by Linda Rex from Mat. 20:1-16
GENEROSITY, FAIRNESS & GOD'S GRACE
Introduction
Last week, in the sermon from Matthew 18:21-35, we rejoiced in God's unlimited, unmeasurable forgiveness. Because of what Jesus has done in our place and on our behalf, there is no debt we owe to God. The debt has been cancelled! It's gone! Jesus, to whom all judgment has been given, left the judge's seat, came down, took our place and paid our debt in full.
That is the reality. Yet, sometimes we live as though it's not. Instead of partaking of the tree of life, we feed from the tree of good and evil—living as though we still owe God for our sins. But Jesus says to us: "The debt is gone—move on!"
Embracing God's grace in Christ is how we need to live out our relationships: with God, with other people, with ourselves. But God does not force us to do so—we can choose to live as though there is still a debt to pay. When we die, we can say to God, "Sorry—I did my best to pay you back, but I failed." How do you think God will reply? Perhaps he'll say, "Well, okay, if that's the way you want to play it—but my way is better. Jesus paid your debt—all of it. You don't owe anything. It's gone. Enter into the joy of the Lord!"
Do you think we'll believe God's declaration of grace then? If so, why don't we believe it now, and live accordingly?
Today's Gospel reading in Matthew 20 challenges us to answer that question. It challenges our tendency to think in terms of justice—of what we deem to be "just" and "fair."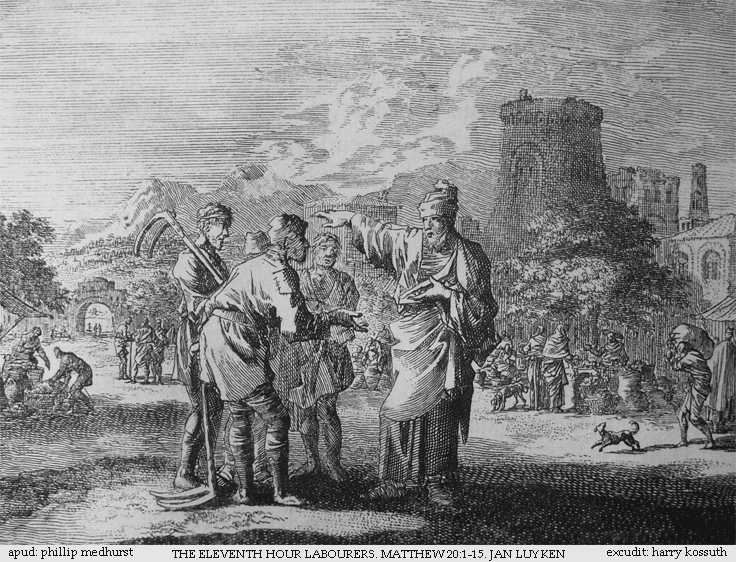 The Parable of the Workers in the Vineyard
But then comes Jesus, who in Matthew 20:1-16 tells the parable of a man who owns a vineyard—a story by which Jesus invites us to think of God in perhaps a different way than we currently do. He is showing us that God's grace is extended equally to everyone. All are included. In Christ, God has made a way for everyone to be part of his harvest.
When God calls us into relationship with himself, it's not just so we can be good, moral people with well-behaved lives. We tend to put that little spin on it. God calls us into relationship with himself, saying, "You know what, you can be part of my family. Tell all the people you know this great good news. Tell them about me. Then, bring them along."
God has a great harvest he is reaping and he is including us in it both as the fruit of the harvest and as harvest workers. He's saying, "Let's do this together!"
I remember as a mom how I would try to make something in the kitchen and the kids would come in. I'd say to them, "We're going to make cookies today, kiddos!" But by the time we're done, there's flour everywhere and the cookies are kind of strange. But you know what? They still taste pretty good. However, the good part in this was not the cookies—it was the fun we had working together: the stories told, the laughter and even the crying shared.
God has not called us to be robots going around saying, "If I do something wrong, God will get mad at me." No, he's calling us into relationship with himself: "I know you're going to trip and fall," he says to us, "but I'll be here. Let me help you up."
In thinking about justice and fairness, it's vital that we keep God's kingdom values in mind. We need to remember that he has a crop he's harvesting, which are disciples of Jesus. This is his kingdom work and he invites us to participate. But we tend to think in terms of doing things for God, and because we think that way, we think he owes us. This is where prosperity gospel thinking comes in.
But the true gospel says God owes us nothing! Note as well that he doesn't freely give us eternal life so that everything in this life will be free of trouble. That's not what he's promised us. We are called to share in Jesus' life, and sometimes that means sharing with Jesus in suffering.
No, we don't follow Christ for the rewards. We don't serve him to earn payment. Yes, Christ says we'll receive blessings in this life and in the next. But it's not the promise of blessings that draws us into sharing in the work Christ is doing to bring in the harvest. Instead, we work out of gratitude, because we love God and want to be with him. Then God provides for us as we participate. He comes alongside us and makes sure we are provided for. We'll get a little deeper into that later.
In the parable, at the beginning of the day, the vineyard owner is thinking, "I've got this crop and it needs to be harvested. I've got to bring it in today." So he goes to the marketplace to hire workers. He says: "Come work for me, and I'll pay you a denarius," which at that time was a typical day's wage.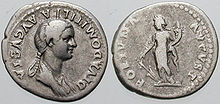 Remember that Jesus tells us to pray, "give us this day our daily bread"—to pray for what we need day-by-day. He assures us that God, who sees us and loves us, will take care of us. He assures us that his grace is enough, though it's not always pleasant. Remember Paul's "thorn in the flesh"? Three times he asked God to remove it. But God's answer was "no," and his reassurance to Paul was, "my grace is sufficient." God sometimes says, "I'm not going to give you what you desire, but what I know you need. Trust me." And Paul did. He wrote to Timothy, "godliness with contentment is great gain" (1 Tim. 6:6). That's not always an easy lesson to learn, but it's true.
Generosity
We don't labor to earn God's favor. We don't labor to get God to feel better about us, or to smile upon us. We already have his favor. He already is smiling. Why then do we labor for the Lord? Well, it's not to earn anything. We do so as a grateful response to God's lavish grace. Because he is a generous God, we are a generous people.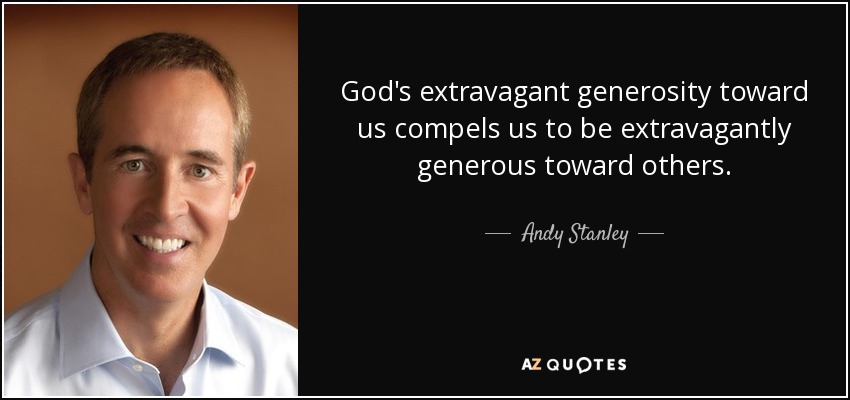 Fairness
The vineyard owner invited these people to be laborers in the harvest. As the day went along, he saw he needed more workers so he went back and saw people still hanging around without work. So he gave them work, saying, "I'll give you what's right." The Greek word translated "right" can also be translated "fair." In administering his grace, God is always right, he is always fair. But what is right and fair in God's way of thinking, does not align with a legalistic way of thinking which says that what is fair is what we've earned. But let me ask you this: have we done enough to earn God's grace? The answer, of course, is "no." It's a very good thing that God's sense of fairness is based on his goodness and generosity, not on our performance. Why? Because our performance is pretty bad.
Yet we still sometimes imagine that God is treating us unfairly. Like the workers in the parable who had been working the longest, we might be saying to God: "I've been such a good person all these years. I've always tried to do the right thing. I've worked hard. You owe me!"
But being much greater than we are, God's sense of fairness is much higher than ours. For God, fairness is about lavishing his love equally on all. It's not about giving people what they deserve. Grace is precisely what none of us deserve, what none of us can earn no matter how hard or how long we work.
God's grace
God lavishes his grace of forgiveness upon all in a way that is fundamentally equal, and in that sense "fair." But please understand, God's grace involves more than forgiveness. Did you wake up this morning? That was God's grace. Did you deserve that? Did you earn that? No, it was a gift. It was God's grace.
What Jesus is teaching us in this parable is that God's kingdom values have to do with the grace of God being extended equally to all—equal, because there is no end to it. God has this amazing ability to do the same thing for everyone, while at the same time working with individuals in particular, even unique ways. Sometimes his logic escapes us, but we've learned to trust him.
I think about the time when, as a single mom, I was working in a nursing home and needed to know what time it was so I could be where I needed to be. Unknown to me, my watch had fallen off when I was leaving my car. Later I looked everywhere for the watch, and I was in a panic because I couldn't find it—I didn't have the money to buy another one. A couple of days later, as I got out of my car, I found it. I had been praying: "God, you know that I really need a watch. I'm going to have to go buy one." I was sort of arguing with God over whether I should spend the money. And there, right in front of me, was my watch!
God often extends his grace to us in unexpected, even unusual ways. He knows our need, he knows what is best for us at any given moment. It might be small, it might be large, but it will always be an expression of God's goodness and generosity in a way that is fundamentally fair, even when it doesn't mean that God does all that we ask for. At times, I've had to grin and bear it. But at those moments when he knew it was important to my heart and life, God did what I needed, sending me the message, "Linda', I'm with you. I'm carrying you. We'll get through this together."
It's about trust, isn't it? Trusting God to be who he says he is—the God of all grace. Are we willing to receive his grace as he gives it; when he gives it? Or are we clinging to thoughts like, "God's I've earned this; I deserve this. God, you've got to help me, now!" Or perhaps we're harboring thoughts like, "I'm going to hold these debts against the person who owes me. I want justice!" Either way, we block the flow of God's lavish generosity, his amazing grace.
Conclusion
Dear ones, receive the grace God has given, the way he gives it, and when he gives it. Then give it away. It truly is a gift—and God keeps on giving it—again, and again, and again. What a blessing! Let's close in prayer:
Thank you God for the limitless extravagance of your grace. What a blessing it is to live in relationship with you, knowing you are not a distant, cold, hard-hearted God, but a loving, kind Abba, Father—the kind who cares about the little things in our lives, and the big things as well. And even when it looks like things are a disaster, you're present with us, working it out. Thank you for including us in your harvest work that we can participate with you in your kingdom even now. Lord, grant us the grace to receive the gifts of your grace as you give them, and to pour our hearts into whatever we are doing with you with joy and gratitude. We pray all this, thanking you through Jesus Christ our Lord. Amen.