Scripture readings: Ex. 3:1-15 and Ps. 105:1-6, 23-26, 45b; 
(or Jer.15:15-21 and Ps. 26:1-8) Rom. 12:9-21; Matt.16:21-28 

Sermon by Dustin Lampe from Matt. 16:21-28 and Rom. 12:9-21
TOTAL SURRENDER (part 2)
GIVE IT AWAY!
Note: this is part 2 of a 2-part series titled "Total Surrender." For Part 1 ("Give It Up!"), click here.
Introduction
In Part 1 of this series on Total Surrender, we looked at the passive side of surrender: Give It Up! Now in Part 2, we'll conclude the series by looking at the active side of surrender: Give It Away!  We'll do so by examining the words of Jesus and Paul, seeing 1) the steps toward total surrender, 2) the actions of the surrendered life and 3) the peace that results.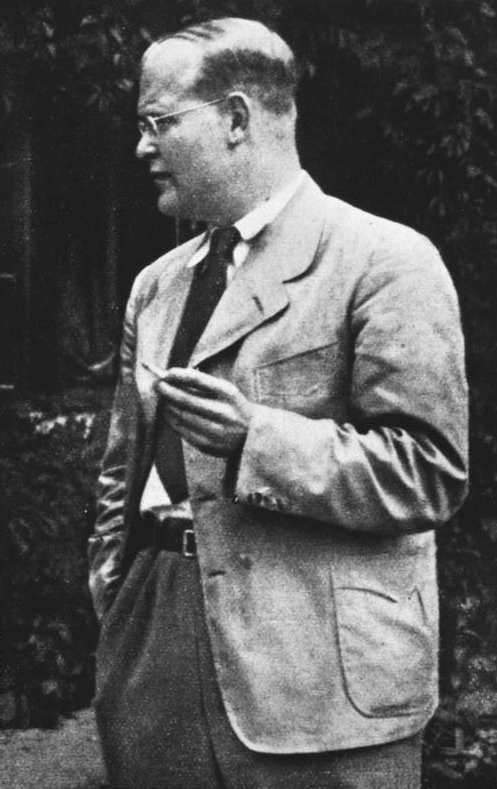 Opening story
Perhaps you're heard theologian Dietrich Bonhoeffer's story. Raised in Germany in the early 1900s, he grew up in a large, well-to-do family. He loved to play sports and to play piano. In his early teens, he decided he was going to be a theologian. By the age of 20, he had written his doctoral thesis—a paper still widely read by even the most advanced students. Denominations will argue about the aptitude of great theologians such as Martin Luther, John Calvin, Karl Barth and Thomas Aquinas, but when it comes to Dietrich, rarely will you hear one try to argue with his teaching. Dietrich Bonhoeffer was, without a doubt, a genius and the Christian church around the world is indebted to him—both for his brilliant writing and for his example of total surrender.
In his early 20s, Bonhoeffer became a renowned professor. By his late 30s, he had accepted a position to teach theology in America. But there was something ominous going on back in Germany and Dietrich was filled with guilt as he sat at ease lecturing in America while his country descended into turmoil under the tyrannical leadership of Adolph Hitler.
After a few months of angst, he set sail back for his country full of confidence that God was calling him to return home to Germany where, tragically, the German church had come into submission to the German government. This change happened gradually, but soon the teachings of Hitler about a pure German race were accepted as Christian teachings. Some Christians readily accepted these teachings, while others did so out of fear. But Dietrich and some others openly objected. At his arrival in Germany, he was unable to openly teach Christian doctrine, so he formed an underground seminary where he taught students.
The question Dietrich faced was two-fold: "What do I do to stop this." And "what is my call to action to participate with Christ?" Though he knew about, and had even taught about pacificism (accepting Jesus' call to turn the other cheek), he came to believe that in this circumstance, Hitler should be executed. With a band of a few other people who had not bought into the delusional teaching of Hitler, he helped plan Hitler's assassination, Those plans were carried out twice—once in a meeting and once on an airplane—both failed. Eventually Dietrich's part in the assassination plot was discovered, he was imprisoned and, at age of 39, the German Gestapo executed Bonhoeffer by hanging.
1) The steps toward total surrender
What does Bonhoeffer's story teach us about the surrendered life? To answer that question we need to look at what Jesus teaches in Matthew 16:21-28 concerning the steps toward total surrender.
In this passage, Jesus tells his followers that he is headed toward a time of terrible suffering. Peter objects, arguing that Jesus must not allow that to happen. But Jesus doesn't take too kindly to Peter's rebuke and warns him that is is thinking the way Satan does (telling him to "Get behind me, Satan!"). By focusing on mere human things, Peter is ignoring the things of God—the sovereign reign of God.
At this point, Jesus turns to the disciples and addresses the topic of total surrender. He tells them three things: 1) to deny themselves, 2) to take up their cross, and 3) to lose their life. Jesus wasn't pulling any punches—he was making it clear what Christians are called to.
What is Jesus' strategy here? Is he wanting to portray the Christian life as so humanly impossible that we'll have to rely fully on God? Well, I see a couple of things that Jesus is doing here: First, he is offering a general call to all people to self-denial. Second, he is offering a specific call to each individual, saying they have a particular cross to bear, a particular life to lose. But how do we apply this personally?
First, we have to recognize that we have a particular self to deny. As each of us grew up, we formed a particular identity. That was true for Jesus as he formed an identity as he grew up—one that was particular to both his genetics and to the environmental context in which he was raised. Scripture says that as he grew up, he gained wisdom and also favor with both God and the people around him.
As each of us grew up a million factors shaped our emerging identity—our emerging self. Some of those factors were genetic (our DNA) and others were environmental. Some call this container formation.
What follows is an illustration from my own life— you will need to change the details to fit your life's experience.
My container was shaped around working hard on the farm, playing baseball, making friends, going to a Methodist Church, being a white boy, the grief of my dad's death when I was young, the anxiety of growing up in a mixed family when my mom remarried, etc.
However, these factors are not "Dustin." Whether my little ego can handle it or not, "Dustin" is who Jesus Christ says I am. And to surrender to Christ and so deny myself, gives me the freedom to say with Paul, "I have been crucified with Christ and I no longer live, but Christ lives in me" (Gal. 2:20). In surrendering to God all that I labeled as "my life," I find my life. By taking all that Christ says is "my life" seriously, I find my life.
The point here is that your life—the factors that define your identity—brings with it a particular cross to bear, a particular set of things to surrender to Christ. Your cross may be your own set of very hard circumstances. But those circumstances do not define your true identity. In Christ, you are not defined as depressed, happy, rich, poor, red, blue, but as something so much more… or, we might say as so much less.
Your container formation said you were these things, but in surrendering to Christ you embrace his claim as to who you are—God's beloved child—regardless of the circumstances or what people might be saying.
2) The actions of the surrendered life
Let's now look at what Paul says in Romans 12:9-21 about actively living out Jesus' call to total surrender. We might call this "surrender in action."
Following up on his call to us to be transformed (Rom. 12:1-8), Paul exhorts us in Rom. 12:9-21 to let that transformation happen by taking active steps in the direction of total surrender. He tells us to 1) hate evil and love good, 2) live in harmony, and 3) bless our enemies instead of seeking vengeance. His instructions clearly assume we will, at times, suffer in following Christ. However, it shows us that God provides a way to live through the suffering, thus overcoming evil with good.
The surrender Paul illustrates involves good works—action. Though Paul says in Ephesians 2:8-10 that it is by grace that we are saved, we are called as those saved to participate in the good works of Christ. When grace—God's unconditional love for and favor toward all people—is deeply experienced and so valued, hard work and devotion to God becomes sheer joy. Grace and hard work thus go together. Good works are built on the solid rock of God's grace! Though we are not saved by the works, the life that Christ gives us includes good works. Works apart from grace, or some effort to "earn" or "deserve" grace is legalism.
So here we learn from Paul that suffering is part of a life of total surrender and that our identity is grounded in the grace of God, not in our works, though in following Christ, we will be active participants in his work, which flows from grace.
3) The peace that results 
From Jesus words in John 16:33, we learn about the peace that results from total surrender to God. Speaking of his oneness with the Father and the troubles that are about to erupt, Jesus tells his disciples that though they face troubles in the world, in him they "may have peace." This is the case because Jesus has "overcome the world."
In making this pronouncement, Jesus is helping his disciples learn that, in the midst of life's troubles (that often lead to anxiety-driven, frenzied activity), they can have peace—the peace that comes by trusting in the one who has overcome the world and its troubles through his own suffering and death.
Theologian Ray Anderson once shared a relevant illustration. He told of two people standing on a mountain top, looking out on a radiant scene below. One says, "I'm glad we made it here, now let's get back to work." Another, filled with wonder and worship, says "Let's linger here a while, soaking in the grandeur of God's creation."
Sadly, here in the West, there is an anxiety-driven, even tyrannical sense of urgency—get more, do more, see more. But then there is Christ's call to surrender—to surrendering the false values that are the basis for this anxiety in order to find our rest, our peace, in him.
Sadly, much of my early experience as a Christian was more about anxiety than rest. I was driven to be better, do more for God, hurry up and get more knowledge. I see that same perspective among many today. Their perspective on Christianity creates more anxiety than peace of mind.
We all need "space" in our lives to enjoy the view—to worship God, and so have peace of mind, despite what's going on around us. That "space" includes time for prayer—time to sit in God's presence and to enjoy the view. I recently asked a person in our church to volunteer and I can't tell you how pleased I was when they replied, "No, I need to take more time and just sit with God."
Conclusion
Don't misunderstand my point. Total surrender to God is not passive—it involves focused action, as noted by Dietrich Bonhoeffer:
The Christian cannot simply take for granted the privilege of living among other Christians. Jesus Christ lived in the midst of His enemies. In the end, all His disciples abandoned Him. On the cross He was all alone, surrounded by criminals and the jeering crowds. He had come for the express purpose of bringing peace to the enemies of God. So Christians, too, belong not in the seclusion of a cloistered life but in the midst of enemies. There they find their mission, their work.
From the words of Jesus and Paul, and also Bonhoeffer, we learn that surrender to God is dynamic and active. But because it is grounded in the grace of God and involves trusting in and therefore resting in Christ, it brings about not anxiety and frenzy, but joy and peace. Actively surrendering to God yields a taste of heaven while living here on earth!
Make no mistake about it, as we surrender to God, we will encounter trouble. How well Bonhoeffer knew that! But no matter how dark it gets in the midst of that trouble, we know something more important—we know that we belong to God. Our identity as a child of God, which is our true identity, is not based on what's going on around us. It's also not based on what we do (or don't do). Instead, it's based on who God says we are, and what Jesus has done through his total surrender to God to secure that identity for us. In that, let us have peace. In that, let us rest. And based on that, let us join Jesus in the work he is now doing. Amen.