Note: This sermon is for Christmas Eve or Day, which begins the 12 days of the Christmas season (for a Surprising God post about Christmas, click here). A Speaking of Life video and discussion questions are not provided with this sermon. For a Bible Project video exploring Luke's account of Jesus' birth, click here.
Scripture readings for today: 
Isa. 9:2-7 • Ps. 96 • Titus 2:11-14 • Luke 2:1-20
Jesus Shares Our Humanity
(Luke 2:1-20)
Introduction
Here on Christmas Day [or Christmas Eve] our focus turns to the miracle of the incarnation and birth of Jesus. In chapter 2 of his Gospel, Luke gives us a glimpse of the early life of Jesus as a newborn, infant and adolescent. In doing so he intends to help us understand how Jesus shared our humanity at each stage of his development as a human being. Luke wants us to see how Jesus beat back our fallen human nature, overcoming the temptations we face. At every point, Jesus (in his vicarious humanity, by the power of the Spirit) was re-creating our humanity. As God incarnate (sharing our flesh), Jesus not only is with us, but is radically one of us and for us. Joy to the world—the Lord is come!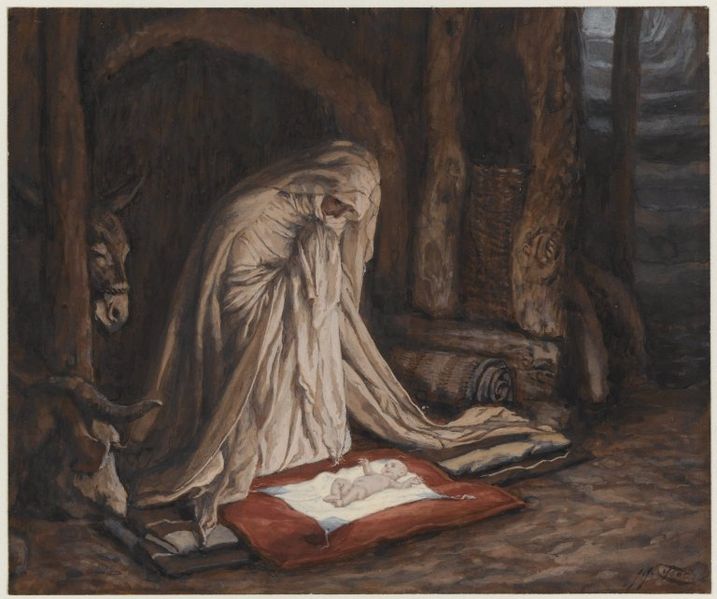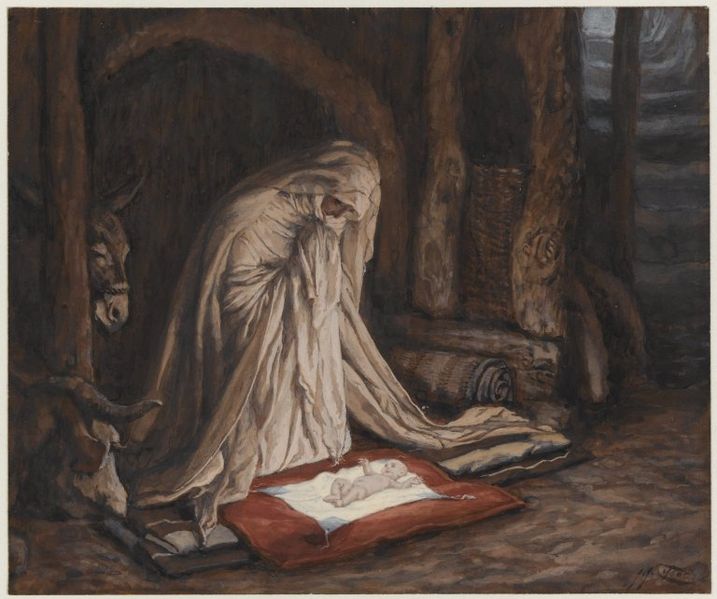 Today, let's focus on what Luke says concerning the newborn baby Jesus. In our Gospel reading today (Luke 2:1-20), Luke shows how the eternal Son of God came into the world of his creation, becoming human in the most humble and helpless way—born in a stable, then placed in an animal's feeding trough.
Jesus' birth draws Mary and Joseph to Bethlehem
In those days Caesar Augustus issued a decree that a census should be taken of the entire Roman world. (This was the first census that took place while Quirinius was governor of Syria.) And everyone went to his own town to register. So Joseph also went up from the town of Nazareth in Galilee to Judea, to Bethlehem the town of David, because he belonged to the house and line of David.  He went there to register with Mary, who was pledged to be married to him and was expecting a child. While they were there, the time came for the baby to be born, and she gave birth to her firstborn, a son. She wrapped him in cloths and placed him in a manger, because there was no room for them in the inn. (Luke 2:1-7)
Caesar was ruling, but God was in charge—now using Caesar's edict to move Mary and Joseph 80 miles from their home in Nazareth to Bethlehem. When Rome took a census every 14 years, every Jewish male had to return to the city of their fathers and there record their name, occupation, property and family of origin.
When Mary says, "Let it be to me according to Your word" (Luke 1:38, NKJV), little did she know what was in store for her as God went about fulfilling the many prophecies concerning the promised Messiah, including  that he would be human, Jewish, of the line of David, and born to a virgin in the village of Bethlehem, David's town (Gen. 3:15; Gen. 49:10; 2 Sam. 7:1–17; Isa. 7:14; Micah 5:2).
Bethlehem, which means "house of bread," was the ideal birthplace for the Bread of Life. Its rich historic heritage included the death of Rachel and the birth of Benjamin (Gen. 35:16–20), the marriage of Ruth, and the exploits of David. This ordinary scene thus speaks of God's mighty hand.
Mary's journey to Bethlehem must have been exhausting. Nevertheless, she rejoiced in doing God's will, and, no doubt, was glad to get away from the gossip-mongers in Nazareth.
Jesus' birth draws the angels from heaven
And there were shepherds living out in the fields nearby, keeping watch over their flocks at night. An angel of the Lord appeared to them, and the glory of the Lord shone around them, and they were terrified. But the angel said to them, "Do not be afraid. I bring you good news of great joy that will be for all the people. Today in the town of David a Savior has been born to you; he is Christ the Lord. This will be a sign to you: You will find a baby wrapped in cloths and lying in a manger." Suddenly a great company of the heavenly host appeared with the angel, praising God and saying, "Glory to God in the highest, and on earth peace to men on whom his favor rests." (Luke 2:8-14)
Think of it—the Creator of the vast cosmos, born as a lowly creature. The eternal Word of God has become a speechless baby! The angels announced this stunning event first to the lowliest of the lows—shepherds. How ironic! Shepherds were outcasts—not even allowed to testify in court. Luke's point is clear: God cares about the poor and lowly. Moreover, Jesus is the Good Shepherd, and the Lamb of God sacrificed for ALL humanity. Luke is emphasizing that the gospel is good news for everyone. All are included!
"Do not be afraid" (Luke 2:10) is a key theme in Luke's Gospel. Literally the angel says, "I announce to you good news, a great joy which shall be to all the people." He uses the Greek word that means "preach the good news," a word Luke uses often in his Gospel and in the book of Acts, which he also wrote. What is this good news? That God has sent a Savior to meet the greatest need of all people—that need here described as peace. The Jewish word shalom (peace) means much more than the absence of war. It means well-being, health, prosperity, security, soundness, and completeness. It has to do more with inner character than outward circumstance.
Life was difficult. Taxes and unemployment were high, and morals were slipping lower. Roman law, Greek philosophy, and even the religion of Israel under the Law of Moses could not bring the shalom of God to anyone's heart. So God sent his Son. And the angels cried out in praise. They had done so at creation (Job 38:7), and now they do so as God commences a stunning re-creation in and through Jesus, the Creator of the cosmos now clothed in our humanity.
The purpose of the re-creation is to unite all humankind with God's "glory." That glory once dwelt in the tabernacle, then the temple, but it had departed because of Israel's continuing sin. Now God's glory has returned in the person of Jesus—God in flesh. Now the "holy of holies" containing God's presence is a human baby lying in a lowly manger. Glory to God!
 Jesus' birth draws shepherds from the fields
When the angels had left them and gone into heaven, the shepherds said to one another, "Let's go to Bethlehem and see this thing that has happened, which the Lord has told us about." So they hurried off and found Mary and Joseph, and the baby, who was lying in the manger. When they had seen him, they spread the word concerning what had been told them about this child, and all who heard it were amazed at what the shepherds said to them. But Mary treasured up all these things and pondered them in her heart. The shepherds returned, glorifying and praising God for all the things they had heard and seen, which were just as they had been told. (Luke 2:15-20)
The shepherds knew what to look for: a newborn baby lying in a manger. When they found the baby, they worshiped him and marveled at God's grace and goodness and the miracle he had done for them.
Conclusion
The shepherds, as common people, are models for us today. They received by faith and then responded in obedience to the message God sent. After finding the baby, they shared the good news of what they had encountered with others. In doing so, they glorified and praised God. Then they humbly returned to their duties, new men going back to their life's vocation. Though they were mere shepherds, God used them to be the first humans to testify to the arrival of the promised Messiah. May we follow their example by living and sharing the good news in our ordinary, everyday lives. Merry Christmas! Christ has come.