Dear Brothers and Sisters in ministry,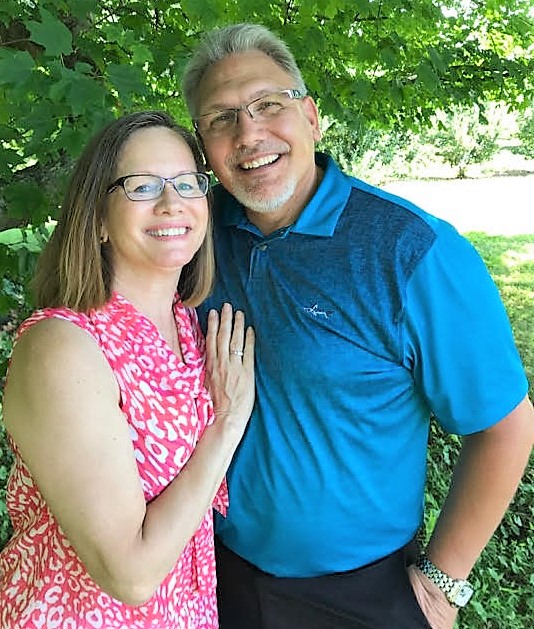 I know we're all praying for those who have suffered loss and those still in harm's way in the aftermath of Hurricane Harvey that has devastated parts of Texas and Louisiana. For a report on how our members in the affected areas fared and how you can help, click here.
Susan and I were richly blessed to spend time with many of you at We Are GCI, our Denominational Conference held last month in Orlando, Florida (click here for video highlights). During the conference we heard stories from around the world showing what it looks like to participate with Jesus in his ongoing ministry of reconciliation. I addressed various aspects of that ongoing ministry in the April issue of Equipper, noting how the Spirit leads us to live into the glorious, liberating reconciliation that is ours in Christ. I quoted Alan Torrance, who reminds us that the Spirit, who leads us to Christ, works in believers to help them understand and embrace the new identity that is theirs in Christ, then leads them to live into that identity, resulting in the transformation of their lives.
The story of Zacchaeus
A powerful illustration of this life transformation is given by Luke in the story of Zacchaeus and his encounter with Jesus:
Jesus entered Jericho and was passing through. A man was there by the name of Zacchaeus; he was a chief tax collector and was wealthy. He wanted to see who Jesus was, but because he was short he could not see over the crowd. So he ran ahead and climbed a sycamore-fig tree to see him, since Jesus was coming that way.

When Jesus reached the spot, he looked up and said to him, "Zacchaeus, come down immediately. I must stay at your house today." So he came down at once and welcomed him gladly. All the people saw this and began to mutter, "He has gone to be the guest of a sinner."

But Zacchaeus stood up and said to the Lord, "Look, Lord! Here and now I give half of my possessions to the poor, and if I have cheated anybody out of anything, I will pay back four times the amount."

Jesus said to him, "Today salvation has come to this house, because this man, too, is a son of Abraham. For the Son of Man came to seek and to save the lost." (Luke 19:1-10)
Jesus' statement that he had come "to seek and save the lost" not only conveys the content of his mission, it shows the orientation of his heart toward "lost" people like Zacchaeus, who along with other residents of Jericho was driven by curiosity (and perhaps by some other inner needs) to come out to see this rabbi named Jesus.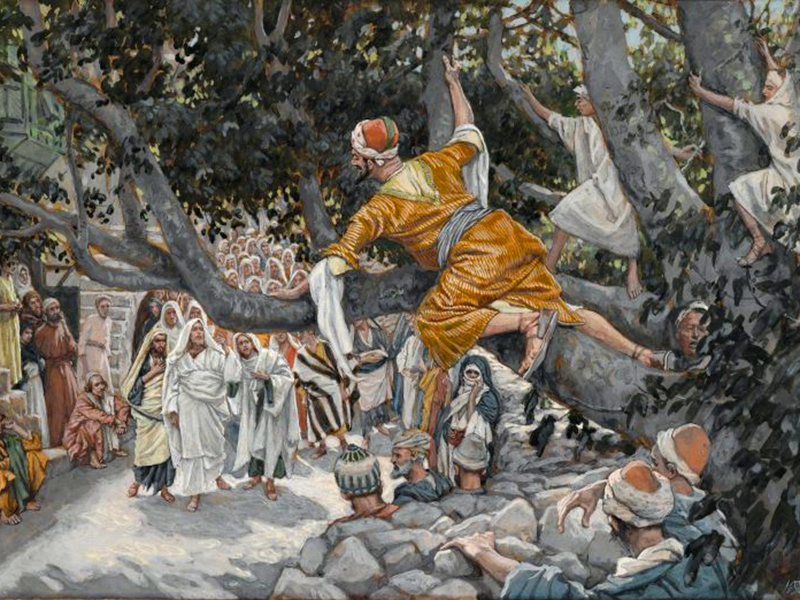 In order to get a clear view of Jesus, Zacchaeus climbs a tree. This may not seem like much to us until we realize that Zacchaeus, being wealthy, would not typically go to such humbling extremes to connect with a man like Jesus. One can only imagine what people thought observing this despised little man. Jesus' reaction was quite unlike that of the crowd. Jesus, rather than ignoring Zacchaeus, "looked up," acknowledging this despised tax collector, discerning the heart of a man willing to humble himself to see a rabbi known for bringing about change wherever he went.
Jesus then addressed Zacchaeus by name, pronouncing that he would be eating in Zacchaeus' home that day. Upon hearing Jesus' words, the people "began to mutter"—they disdained Zacchaeus as a traitor to his own people, supervising those who collected taxes on behalf of the Romans. How could Jesus pick such a despicable person out of the crowd to spend his valuable time with?
We do not know how God had been working in the heart and mind of Zacchaeus to prepare him for this encounter with Jesus. Was Levi (Matthew), a former tax collector (Luke 5:27–39), Zacchaeus' friend? Had Matthew told Zacchaeus about Jesus? Was Matthew praying for Zacchaeus? Had Zacchaeus grown weary of his wealth and started yearning for something better? Though we don't know the backstory here, we do know that Zacchaeus sought out and then responded to Jesus. He blurts out an amazing statement of repentance, stating that he will give half his possessions to the poor and repay all he has cheated at the rate of four times the amount wrongfully taken—doesn't that echo the truth that "where your treasure is, there your heart will be also"?
Saved, through grace, by Jesus
The presence of Jesus and the unseen work of the Spirit in Zacchaeus' mind and heart transformed a lost sinner. He wasn't saved because of his commitment to good works—that commitment came in response to the grace of God present with him in the person of Jesus, who fellowshipped with him in his home that day.
Luke intends that we see Zacchaeus' story as the story of all humanity—the story of Jesus, by his initiative, first seeing, then entering into fellowship with sinners. Zacchaeus' story thus epitomizes what it means to be saved by the grace of God in and through Jesus. That grace is then received (responded to) in faith—note that Jesus calls Zacchaeus a "son of Abraham"—likely not only a reference to his Jewish heritage, but also a reference to the fact that he showed faith in God, just as Abraham had done so many years before. Indeed, it is by grace, through faith, and not by works, that people of all kinds (even tax collectors!) are saved and so transformed by Jesus.
GCI's transformation
Zacchaeus' story of transformation resonates deeply with me—particularly as I think about all we witnessed at the Orlando conference. By the grace of God, GCI has been transformed by Jesus at work in us through the indwelling Spirit. As we heard at the conference, GCI has experienced this grace of God in profound, wonderful ways. We heard stories of how GCI churches and members are participating with Jesus in making life-transforming differences in families, communities, towns and even nations. As we heard these We Are GCI stories, it became even clearer to me that Zacchaeus's story is our story—the story of all who recognize, receive and follow Jesus, responding to him in faith.
I look forward to hearing many more of these stories of what happens when we participate with Jesus in his ongoing ministry of reconciliation. I encourage you to attend our next Denominational Conference. It will be held in Charlotte, NC, in 2020 (we'll announce the exact dates soon). I also ask that you pray for our annual GCI-USA Church Administration and Development (CAD) team planning meeting that will be held in Southern California in October of this year.
Many praises to the One who has and is transforming us,
Greg Williams