What difference does GCI's Incarnational, Trinitarian vision make in everyday ministry? Josh McDonald, associate pastor of GCI's congregation in Indianapolis, Indiana, tells how it renewed his understanding of evangelism.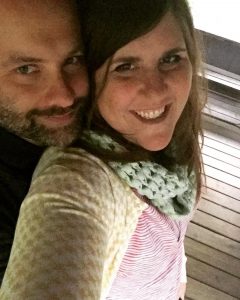 In the mid '90s, I did two years' time at a fundamentalist Christian college. Among my studies (along with a parade of Christian rock concerts), was a class on evangelism ("witnessing to the lost"). The professor taught us to read the sports page so we could lure people into casual conversations, then pin them with the gospel. One of his favorite refrains was, "If you don't know-that-ya-know-that-ya-know the exact date and time you 'said the prayer' then you can never be sure of your salvation." For the more obsessive among us, his statement sent us scouring through our memories or running up to the rail at every chapel service, re-confessing and hoping for some kind of receipt.
Fast forward 20 years. I'm married to Heather, we have three kids, and I just turned 40. My "fundy days" are far behind—separate enough now that I can be thankful for what I learned as well as spit out the proverbial bones. This season of my life has also brought me into close fellowship with the ideas of Barth, the Torrances, Deddo and other Trinitarian theologians. These thinkers have helped me understand the uneasy feeling I would get every time I heard that "you have to know that ya know that ya know….," etc.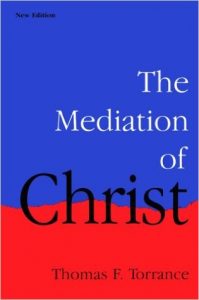 One of T.F. Torrance's helpful ideas in his book, The Mediation of Christ, is of Christ being the "personalizing person." Just as Adam acted in disobedience on behalf of humanity, so Christ acted in perfect obedience on our behalf. He responded for us perfectly, because we are unable to even think a godly thought in and of ourselves. Our "participation" is to trust in the finished work of Christ and allow Him to respond to God through us. As the sacrifices of Israel looked forward to the finished work of Christ, so the sacraments celebrate back to it.
Despite my fundamentalist professor's insistence on certainty, the moment of salvation seems a lot messier. I've met few people who said the formulaic "sinner's prayer" and experienced instant change in their lives. The norm seems more to be "a long obedience in the same direction" (to quote Eugene Peterson)—an organic process of stops and starts that would be difficult to sketch let alone place on some sort of formulaic matrix.
I grew up in the south where almost everyone "said the prayer" at one time or another, whether their lives reflected conscious fellowship with Christ or not. I've also lived in the Pacific Northwest where people are largely unchurched (and have been for generations). Yet among these non-religious people, I often observed Christ-like behavior. I've also met people with vibrant Christian lives who, unable to point to the nano-second of their conversion, have experienced a gradual process of growth in Christ-likeness. So it seems that a forumulaic know-that-ya-know matrix is too airtight to let reality breathe. It's here that our Incarnational Trinitarian understanding of mediation, salvation and conversion helps us to understand. Instead of experiencing an instant reversal of total depravity at a particular moment of conversion, we begin embracing a reality that already is there before we begin to believe. Then, as believers, we grow into that reality. We can think of this reality as a "current of salvation" that always is running for all people. The evangelistic invitation then is to "let go and swim." Then, as Jeff McSwain in one of GCI's You're Included interviews explains, as believers we then knowingly seek to "live into" the life that already was ours in Christ before we believed:
The Holy Spirit… lifts us up to live into our life with Christ and allows us to manifest the fruit of the Spirit in a more overt, or in a more manifest way than an unbeliever most of the time.… The Holy Spirit allows us to grow into the person that we already are.
This explanation of the nature of evangelism and the Christian life, has saved this "OCD evangelical undergrad" a lot of anxiety. When we look at non-believers in oversimplified, unreflective ways, seeking to find deficiencies in their lives, we enter into an intractable swamp that is characterized by prejudice, judgmentalism and doubt. But the truth of the gospel gets us out of that swamp by opening our minds and hearts to embrace the prize that Christ already has won for all people.
By the Spirit, our Lord is reaching out to all, wooing them with glimpses of his goodness and love. Our job as Christ-followers is not to decide who is unsaved, pre-saved, almost-saved, or saved. No, our job—our privilege in ministry—is to woo alongside the Lord as he reaches out, in relationship, to all people, who, in the end, are simply that—people, God's children all.
______________
Note from the editor: click here to read a related GCI article, "Here's Good News for Everyone!" It gives an Incarnational, Trinitarian presentation of the gospel along with an invitation to respond.